RoofPRO is a locally owned and operated contractor offering full-service, industry-leading roofing solutions in Baltimore County, Maryland. Many customers choose us thanks to our personalized service that can transform your commercial or residential property into the property of your dreams!  
Our team of professional roofers bring outstanding customer service and attention to detail to every roofing project, separating us from the competition. You can always ensure we'll stand behind you every step of the process to ensure you are satisfied with the finished product. 
Professional Maryland Roofing Solutions
As a trusted source for top-rated roofing services in Baltimore County and the surrounding area, RoofPRO brings nearly two decades of experience to every project we take on. Check out some of our professional service offerings below!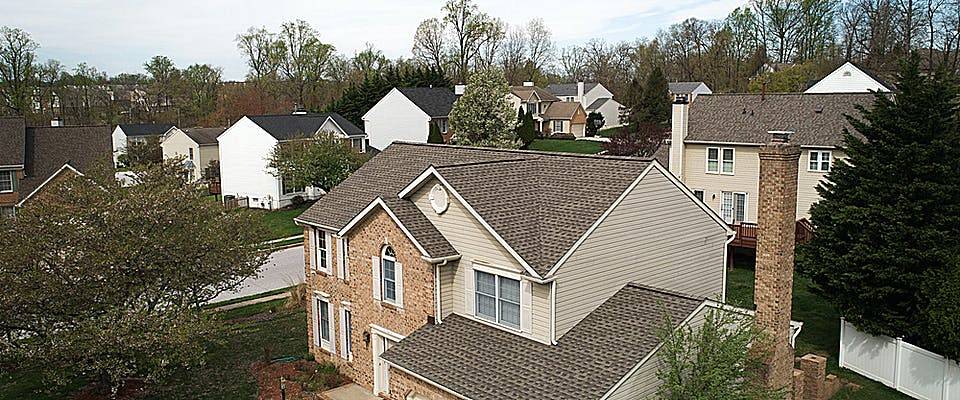 Residential Roofing Services in Baltimore County
RoofPRO offers certified, full-service residential roofing solutions in Maryland, providing quality and artistry that goes beyond throwing a few shingles up. From your very first estimate to your finished product, we'll make sure that every component of your roof is ready to last for years to come! 
Roof Repair and Replacement
Storm Damage and Emergency Roof Repairs
If your roof has been damaged due to storms, wind, or rain, call our team of roofers here at RoofPRO. We have extensive experience dealing with emergency roof repairs, and performing these repairs is often much less expensive than redoing your entire roof! We can ensure that you and your family are protected and can help minimize future damage with emergency roof repair.  
Whether you are building a brand new home in Baltimore County or need a complete roofing overhaul, RoofPRO is here to help with our trusted new construction roofing services. The process begins with a detailed roofing inspection to analyze the planned roofing system and type, including the covering, the insulation, and the deck. Once established, our team of experts can determine what kind of new roofing construction you'll require to meet your property's needs! Reach out today for a complementary estimate. 
Regular Roofing Maintenance
There are several ways in which maintenance can prolong the life of your roof before it meets the end of its lifespan or gets hit by an aggressive storm. Our roofing team will come out to perform a number of regular roofing maintenance tasks, including: 
Checking your shingles 
Looking for leaks in ceilings and attics 
Washing your roof 
Cleaning your gutters 
Trimming overhanging branches 
Patching up the chimney 
By performing these tasks, we can better prepare your roofing system for the months and years ahead! 
Residential Skylight Installation and Repair
RoofPRO is the company to call when you need skylight installation or repair! Your skylight takes the brunt of natural elements, just like your roof, meaning it's important to inspect and maintain it regularly. Skylight repairs can mean replacing the acrylic dome or removing and replacing the sounding roofing material.  
We also perform quality skylight installation if you're looking to remodel your home or add a few solar skylights to a particular section of your home – contact us today for a free estimate!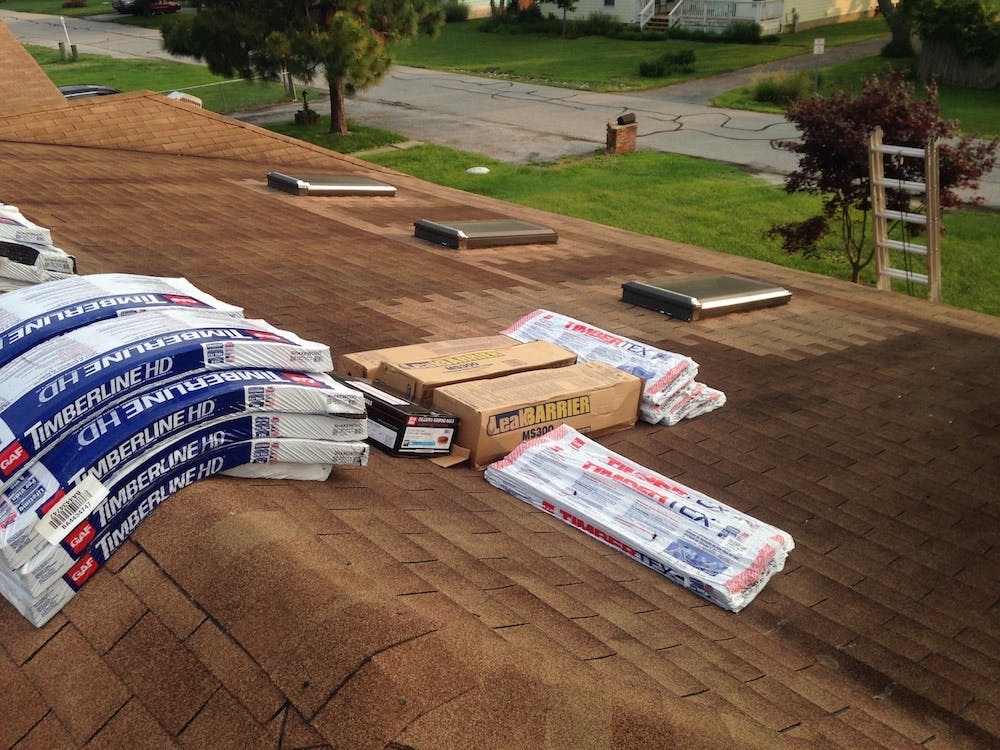 Commercial Roofing Services for Baltimore County Businesses
RoofPRO offers certified, full-service commercial roofing solutions in Maryland, providing attention to detail and several professional services to ensure total satisfaction. Our expert team will examine your roof and get it to where it needs to be based on your business's needs and budget. 
Flat Roofing Repair, Replacement, and Installation
Allow us to be your professional roofing contractor in the Baltimore, MD, area. We offer flat roofing services, from repair to replacement and installation. Flat roofing is one of the most affordable and durable solutions for commercial buildings, and they are made up of multiple layers that offer plenty of protection!  
We specialize in flat roof installation, ensuring a stylish and long-lasting roof. If you need to fix damaged or worn flat roofing materials, we can also help with that! Reach out today for a free commercial roofing estimate.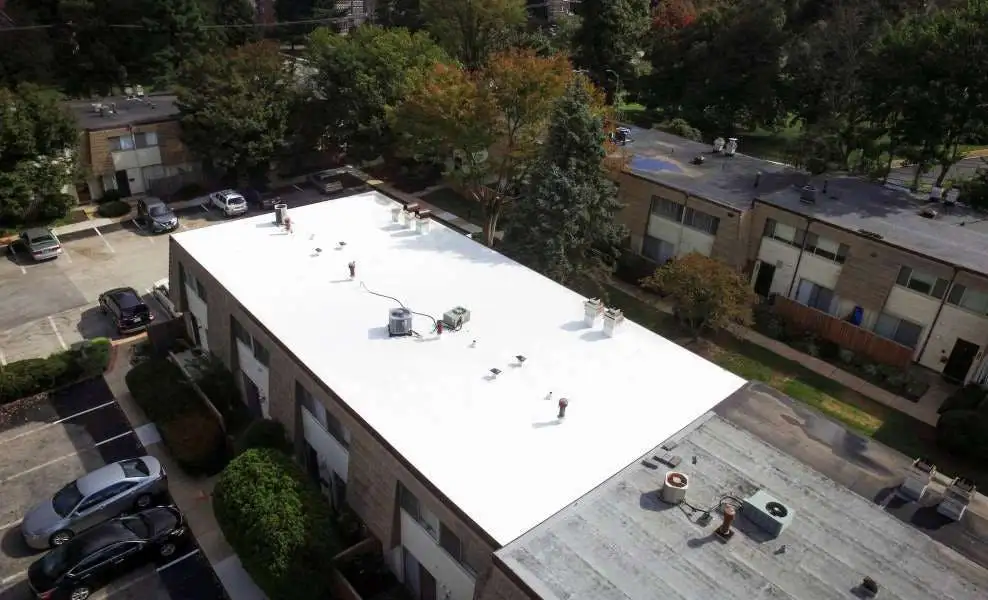 We Bring Expertise with Many Flat Roofing Types
At RoofPRO, we have expertise in numerous flat roofing types. With unparalleled service and quality, we make sure to take care of our customers in every way. Look across the city of Baltimore, and you'll see many flat roofs, many of which use different systems! We ensure that each contractor on our team has expertise in numerous systems, including EPDM, TPO, self-adhered rolled roofing, and more.
Your flat roof requires attention to detail, and we're here to provide it. No matter the size of the project, we can help with our top-rated flat roof installation services. Contact us today for a complementary flat roofing estimate! 
Skylights and Sun Tunnels for Commercial Buildings
Skylights and sun tunnels can be a beautiful addition to any commercial roof, offering a way to bring natural light into the building. This can make the interior space feel more welcoming with a more dynamic design. 
However, a poorly installed or damaged skylight can leak or develop moisture build-up, which can be even more damaging to your roof's integrity over time. This is why so many Baltimore businesses trust the expertise of the team at RoofPRO when it comes to skylight and sun tunnel installation. 
Additional Services from RoofPRO
Beyond our regular roofing services, we offer a number of other residential and commercial property repair and improvement services.
Check out our additional home improvement solutions down below!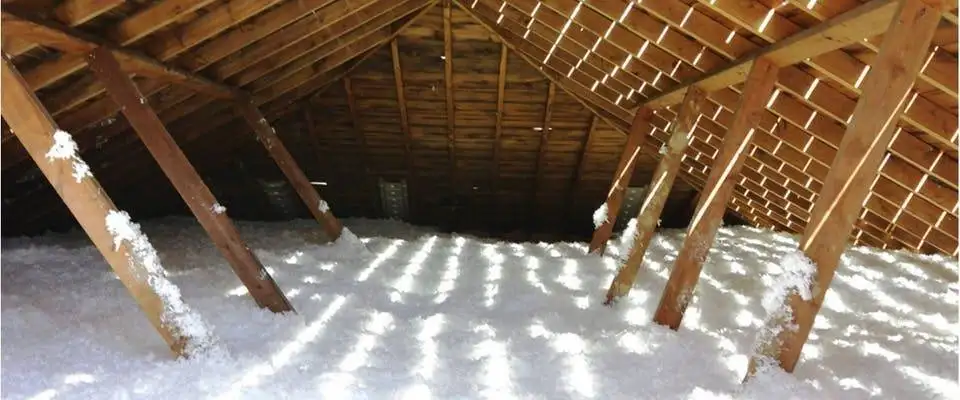 Attic Ventilation and Insulation
Making sure your attic ventilation and insulation is set up for comfort and energy efficiency can improve the experience of your home. With our top-rated insulation services, we make sure that your home receives the airflow it needs while staying cool during the summer and warm during the winter!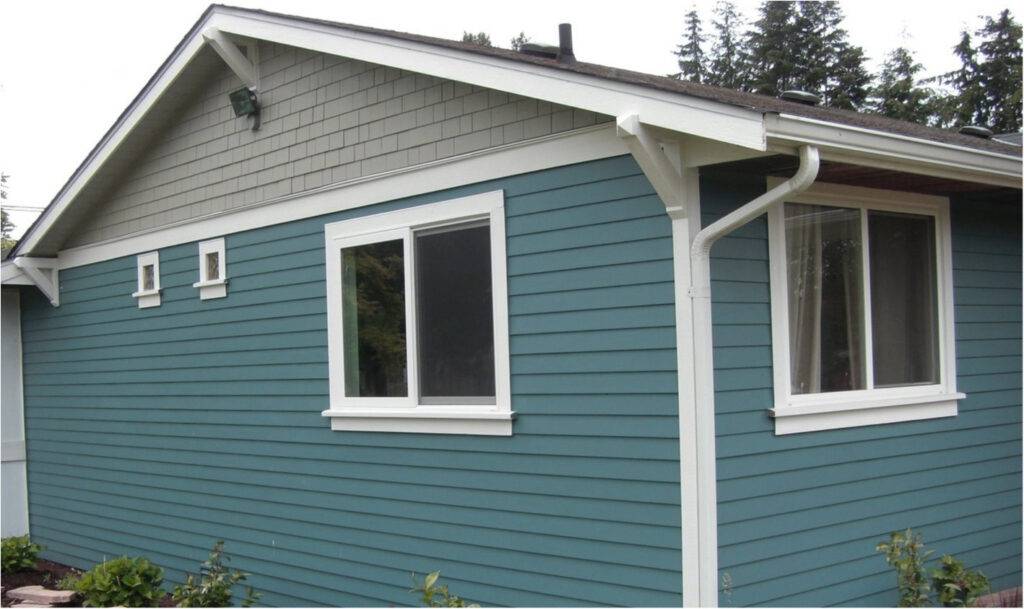 Solutions for Gutters, Siding, and More
We work with many residential property owners to install cost-effective siding. Proper siding installation requires an expert team with professional know-how. Our craftsmen are dedicated to ensuring effective and efficient vinyl siding installation! 
Another one of our popular services is gutter installation, repair, and replacement. We understand the importance of a strong gutter and how proper gutter installation can impact a roof. Get in touch with us today to find out about our other popular roof-adjacent services. 
Why Work with RoofPRO in Baltimore County?
RoofPRO takes great pride in our various professional endorsements from some of the most trusted names in roofing and business, including Owens Corning, Certainteed, and the Better Business Bureau (BBB). In addition, our experienced and dedicated team can offer you several exterior service options, helping you from point A to point B without wasting your time or money! 

Serving Maryland Residents and Businesses Since 2004
Our team of friendly, trained roofing contractors will help you find the right roofing materials and help you get the most out of your budget. We've worked with several unique systems and materials to craft the most efficient and effective roofing services possible. Our goal is to ensure your residential or commercial property is beautiful, functional, and long-lasting! 
Reach Out for a Free, No-Hassle Estimate
RoofPRO has been a trusted contractor in the Baltimore area for many years. With a strong team of roofing experts, we are ready to take on any project you throw at us! Whether you require a simple repair or an entire roofing replacement, RoofPRO is here to make your project a success, all while delivering expert-level communication and service. Get in touch with us today for a free consultation. 
Our Baltimore County Service Area
RoofPRO has completed hundreds of projects throughout Baltimore County, MD. Our roofing contractors cover a service area that includes all of Baltimore County, including many of its biggest cities:
So, why should you work with RoofPRO in Baltimore County? We are a professionally accredited business with nearly two decades of roofing experience in Maryland! 
We are proud to be a trusted local roofing contractor in Baltimore, MD. Our community is one of our top priorities, which is why so many local homeowners recommend us to their friends and families.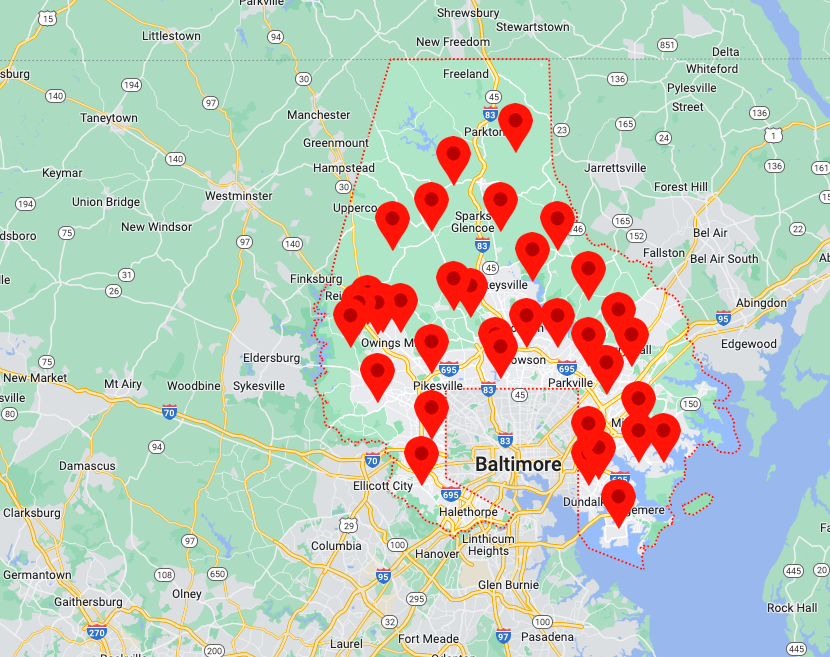 Speak directly with one of our roofing experts