Residential ROOF REPAIR Maryland
Are you dealing with a leaky, aging roof?
Despite what you might think, or even what a home inspector says, this doesn't always mean a full replacement is your only course of action. Sometimes a combination of roof repairs and maintenance is all you need to prolong the life of your roof system, providing extra protection for you and your maintenance budget.
Talk with us! We can provide a free roof inspection to determine the best strategy to meet your needs. Our knowledgeable team approaches each estimate with honesty and integrity, so you know you're doing the right thing for your home. We offer the most trustworthy roof repair services in Maryland.
And, if your roof does need to be repaired, RoofPRO is at your service. We can replace damaged, broken, or aging shingles, and can also provide more extensive repairs caused by wind, rain, and snowstorms.
TJ Ritchie and team provided exceptional service from beginning to end with quality work, good communication and coordination, and a simplified process to make the entire experience seamless for the customer.
It has been a pleasure working with RoofPro repairing our damaged chimney. Communication and timely completion of the job were outstanding! Really appreciate a job well done at a great price!
Used their website to request a free estimate, TJ responded promptly and was out to my house within a day. After the estimate they scheduled the work to be done within two days and we're complete quickly. The team showed up on time and we're done in 3 hours, much faster than I expected. Pictures were taken throughout the entire process and provide to me along the way. I am very pleased with their work and they are now my only choice for roofing needs in the future.
Quick, flexible, and quality work completed to expectations. Will use again if I need roofing work.
Roof Pro replaced my vinyl siding and gutters. TJ Ritchie was the estimator for both projects. His friendly and professional manner instilled confidence right away. The price was very reasonable in comparison to other companies and ended up being exactly as he quoted. No hidden costs. Darryl Arante was the communicator for scheduling of both projects. He emailed the ETA for the crew, keeping me informed of any changes. The crew members who performed the work did an excellent job. I was impressed with the attention to detail and they thoroughly cleaned up afterwards. I highly recommend RoofPro!
TJ & team did an awesome job replacing my roof. Within 1week, TJ came out provided a quote and completed the install. The price was very reasonable and they kept me informed thru the entire process. I would use and recommend them in the future.
We were very pleased with the roof replacement and response we received. This is my second roof contract. I would highly recommend this team. TJ, Brandon and Darryl make it happen smoothly!
I could not say enough about Jenn C.! She is always very welcoming, professional and responsive when we are in need of their services. I have used them multiple times at work as well as a complete roof replacement at my home. They had wonderful communication during the whole process. We appreciate all they have done for us and will continue to use them in the future! Alexis Alta at Regency Crest
RoofPro did a fantastic job with my most recent project. They did a roof replacement for damage done by a wind storm. TJ was super helpful and knowledgeable in assessing the roof and communicating with the insurance company to answer any and all questions. And the crew that did the installation was professional and performed perfectly! Highly recommend!
First let me say, I have never left a business review. I was so impressed by the professionalism and attention to details from the onset. My roof started leaking badly on Christmas Eve. I called several companies and Roof Pro was the only company able to come out in 2 days, which was much better than 2 weeks other companies stated. TJ Richie, the Residential Estimator, responded two days later and was very polite, personable and extremely helpful. He advised me how to file an insurance claim, which I did- to no avail. TJ also spoke to the insurance company on my behalf. After the insurance company steadfastly refused to make the necessary repairs to my satisfaction, I contacted TJ to get this project started. The price quote was very reasonable. Brandon Crone, production manager, contacted me to schedule the start date. On that day, Brandon and his crew arrived early and ready to work. They did an excellent job and kept me informed by phone and photos of the progress. Upon completion, the crew did an outstanding job of cleaning up not only my property but my neighbors as well since some debris had blown into their yards. My roof looks great. The professionalism, knowledge and skill of the RoofPro team will not disappoint you. Thanks for a great experience during a challenging time.
Common Interior Signs of a Roof Leak
Water marks on your ceiling

01

Wet boards in your attic.

02

It's worth routinely inspecting these spaces with a flashlight, and paying particularly close attention to the surfaces around your chimney. Compromised flashing can offer a perfect entry point for water.

Damp, bulging drywall

03

Electrical issues!

04

Water follows the path of least resistance, and this can include running along electrical wires.
Bear in mind that if you do see signs of interior water damage, the leak is likely not directly overhead. Water is an expert traveler, finding its way through nooks and crannies while following a wide variety of surfaces. Talk to a professional roofing company right away – we can help you find the source based on the symptoms of your leak and the current condition of your roof system.
Residential ROOF REPAIR Maryland
Exterior Signs That Your Roof Needs Repair
If the warning signs are rearing their heads, swift, proactive care and repair is the best response. Stopping a leak before it starts is ideal!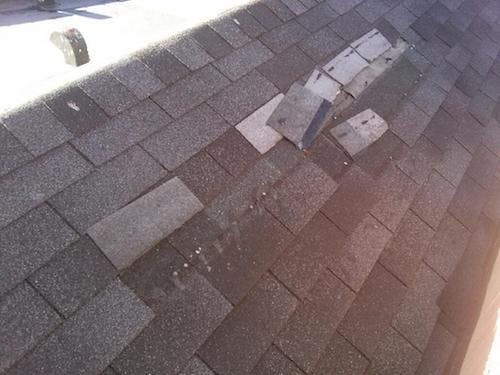 Residential ROOF REPAIR Maryland
Effective Roof Repair Made Easy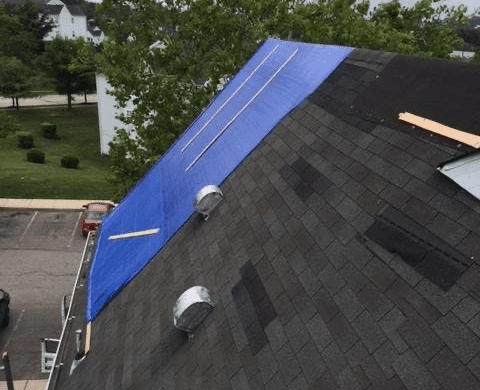 It starts with a phone call!
Our friendly office team will quickly coordinate your roof inspection, providing a fast, accurate assessment of both your roof's condition and your options moving forward. We specialize in repairs as well as replacements, and we'll never just assume that a new roof is the only way forward.
If needed, our roof leak contractors can provide emergency tarping services as well, just to minimize any further damage while you decide on the next steps.
We want to make the process as simple as possible. Contact us today to get started or to learn more about our residential roof repair and maintenance in Maryland, including our available financing options.
Our Other Roofing Services Include:

OUR DIFFERENCE
We believe that a roof is more than a shingle, it's a system built of multiple components that when properly joined together with each unique essential facet will provide the longevity you need for your home. We bring you roof systems built to last, crafted with excellence and quality, a complete package from top to bottom.