Your team at RoofPRO offers Roofing Service in addition to installation. If you think you may only need a few repairs, we will help you determine the best course for your roof. During your estimate, we will not upsell you. We can help you assess when you may need a total roof replacement in the future and to protect your house in the meantime by creating a personalized maintenance plan for your roof.
To help you get a picture of what your roof repair might look like, we've compiled information about how to determine the state of your roof and how to get the repairs you need. If at any point of your DIY assessment you want to hand it over the PROs, we're ready to help! Your safety and comfort are our concerns, too. Here are a few things to consider with links to more details in this Roof Repair post:
Have you caught a leak?
Let us help you reverse the warning signs before they lead to a bigger problem! After all, catching an issue as early as possible is the very best way to minimize damage and expense:
Water marks on your ceiling
Damp, bulging drywall
Wet boards in your attic. It's worth routinely inspecting these spaces with a flashlight, and paying particularly close attention to the surfaces around your chimney. Compromised flashing can offer a perfect entry point for water.
Electrical issues! Water follows the path of least resistance, and this can include running along electrical wires.
Bear in mind that if you do see signs of interior water damage, the leak is likely not directly overhead. Water is an expert traveler, finding its way through nooks and crannies while following a wide variety of surfaces. Talk to a professional roofing company right away – we can help you find the source based on the symptoms of your leak and the current condition of your roof system.
Do I need to Hire a Professional Roofer?
Tackling your own roof repair is a risky, often extremely expensive proposition. You could equate it with trying your hand at a major car repair (while being high in the air, no less). Having the correct certifications, safety training, experience, and tools is essential. And, in many cases, hiring a certified roofing company also gives you access to great warranties that are otherwise available.
What's Included in RoofPRO's Roof Leak Repair Service?
As part of our roof leak repair service, during our initial inspection, we will be sure to check the areas where leaks are most common. These are: inside the attic, on the roof, under the roofing material, and on the ground. Any inspection that does not involve looking in the attic or on the roof is simply inadequate. The attic is a key component to your roof system. Some leaks are impossible to find until you inspect the attic. Even if you see water stains, it is hard for the untrained eye to see if they are old or new. This is an important distinction to make when seeking out a leak. Mold is usually an indicator of either a slow leak or poor ventilation.
It is equally important to thoroughly inspect the roof, as it may appear that a leak is coming from a pipe, when it's really coming from above and traveling down the pipe. While we are on your roof, we will inspect the condition of your roofing materials and replace any missing shingles. An improperly installed roof is much more likely to allow leaks than one installed by certified roofers. This is why it is so important to hire professionals for your home repair projects.
Sometimes a leak isn't obvious, and this means we need to pick up shingles or take off some siding to see the flashing. When inspecting the other materials, we search for water stains, rusty nails, and dirt. Dirt will indicate that water is getting into places it shouldn't. It is important to inspect a leak from the ground, but, as previously mentioned, this should not be the only place you look. People will occasionally try to take advantage of homeowners by only inspecting the ground, and that just isn't thorough enough to catch every problem. If you are trying to inspect your own roof, however, it's better to stay on the ground. Unless you are a professional roofer, walking on your roof is dangerous. So, if you are on the ground, look for anything out of place. It may be very beneficial to watch how your shingles react to higher winds as well.
How can my home be impacted by severe storms?
We frequently ask, "has your home been affected by storm damage?" because in many instances it is easy to see the unfortunate results of weather events. If your home or your neighbor's has experienced any of the follow, be sure to bring out a pro to assess the hard-to-find damage. We'll make sure that any necessary repairs are completed before the problem grows.
Storm Conditions that damage roofs:
Strong wind pulling up shingles and exposing your home to moisture.
Falling trees and debris can cause anything from a small gutter clog to catastrophic damage of your home.
Snow and ice build up create a weighty issue that can lead to buckling or pooling on your roof.
Torrential rainfall may wear away the protective coating on your shingles, making them less effective.
A large hailstone can create holes in shingles and reduce their integrity.
How to budget your roof repair
Before you even bring a contractor to your home for an estimate, you can look at estimating services and prepare for your costs. Sites like roofcalc.org or Remodeler can give an idea of what you will spend. You'll want to take these simple steps before the hammering starts:
Know the price
Save
Get approved for financing
Use a certified roofer
Did your last roofer cut corners?
It's not uncommon for us to uncover the roof materials on your home and discover the errors made by a previous roofer. It's unacceptable for them to create conditions on the roof that can lead to leaks or problems with the structural integrity. Some roofers may argue that the following steps could save time or money, but it would not be a seamless roof system. When we discover that a roofer layered new shingles over the old ones, we fix it deep in the source. We've also seen shingles that are spaced out too far and areas where staples are used instead of nails. You can be assured that your RoofPRO team would never make these errors. Our certifications and training back this up.
Can you find these four warning signs that you need a Roof Repair?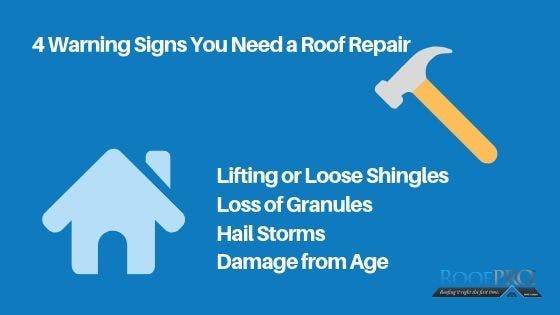 Hire a professional inspector like RoofPRO to help you recognize the signs and take steps to correct them!