If you've ever felt that your home might be missing that certain special something, a skylight may just be what you've been looking for. Skylights can add an undeniable value to your home, both in the form of the increased natural light they bring and in the boost they provide to your home's market value, but they are also an investment. If you've been thinking that a skylight could be just what your home needs, read on for a comprehensive guide to the benefits skylights can offer, some of the primary types you may want to consider, and some frequently asked questions common to homeowners throughout the country. 
A skylight is a purpose-built opening on a roof that is covered by glass or another transparent material. They're sometimes called "roof lights" or "roof windows."  Like regular windows, the primary purpose of a roof skylight is to allow more natural light into the home, but some models also allow for ventilation and temperature control. Skylights offer an undeniable aesthetic appeal and create an open, airy space that can improve your home's energy efficiency, curb appeal, and resale value.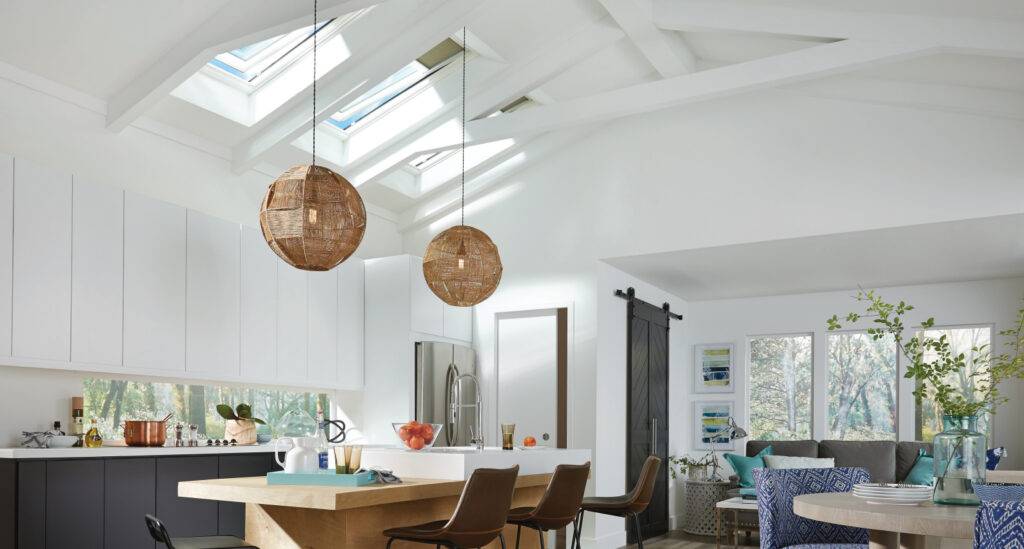 What are the Benefits of Installing a New Skylight?
The primary benefit of a skylight is the extra light they bring to your home, but they have plenty of other perks to offer. Many styles of skylights provide ventilation for your home by opening wholly or partway, allowing air to cycle up through the top of your home, flushing out the hot air near the ceiling. This can be extremely helpful during the summer months and can even help lower your electric bill! Skylights also offer an undeniable aesthetic boost to any space and typically add considerable value to your property. 
1) Bringing Natural Light into Your Home
Skylights bring an unprecedented amount of natural light to any room they're installed in, which has not only been proven to boost moods but can also help with heating costs in the wintertime. By positioning your skylight at the right angle, you can ensure the room below it gets maximum light exposure throughout the year. 
2) Improved Ventilation for a Space
Depending on your climate, ventilation can be critically important for your home; here in Central Maryland, for example, our humid summers can cause moisture build-up, mold growth, and all kinds of other problems besides the hot, stuffy air! Ventilated skylights can help keep air moving through your home, reducing the humidity of a space while letting it "breathe."  
A properly installed skylight can provide unmatched aesthetic appeal both inside and outside your home. The natural light they bring in diffuses throughout the rooms, adding a wonderful quality to the lighting in your living spaces. From the outside, skylights add curb appeal and provide a unique and classy look to almost any home's exterior.  
4) Add Value to Your Home
Skylights provide more than aesthetic value; they also offer a real, tangible increase in the overall market value of your home! With their proven energy efficiency, ventilation benefits, and mood-enhancing natural light boosts, potential buyers are often extremely excited at the prospect of purchasing a home with pre-installed skylights.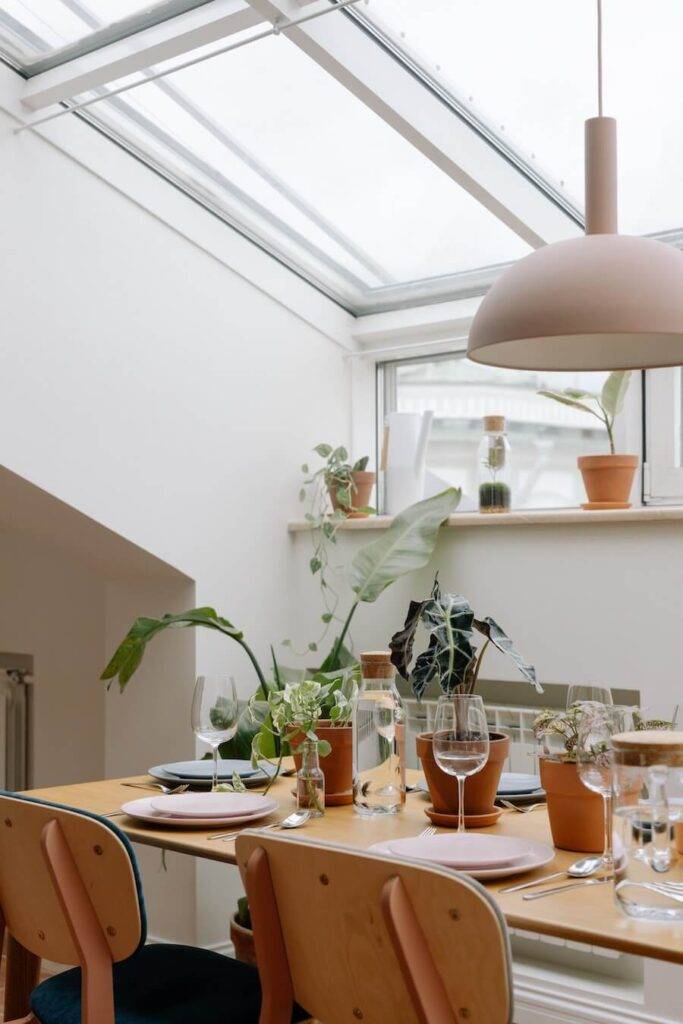 What Types of Skylights are Available for My Home?
Skylights are available in a near-endless amount of styles, shapes, materials, and designs to fit all kinds of roofs. From flat roof skylights to custom-built pyramid skylights and beyond, it's all but guaranteed that you'll be able to find a solution that is the perfect fit for your existing roof. In general, skylights are broken down into a few primary categories, and each has a wide variety of designs and selections so you can choose your skylight to be the ideal match for your home.  
Fixed skylights are skylights that don't open but are instead made from "fixed" pieces of glass or other transparent material. While they don't offer "roof windows" like other styles, fixed skylights are by far the simplest type of skylight to install and maintain. As an added bonus, fixed skylights usually offer the best amount of natural light and, since they do not need to hinge or open in any way, they can be better sealed for maximum energy efficiency and weather protection. This also means they can be larger skylights, since you don't have to compensate for opening or hinging the additional weight of a bigger fixture. Fixed skylights can be either curb-mounted or deck-mounted and are available in countless different styles, sizes, and shapes.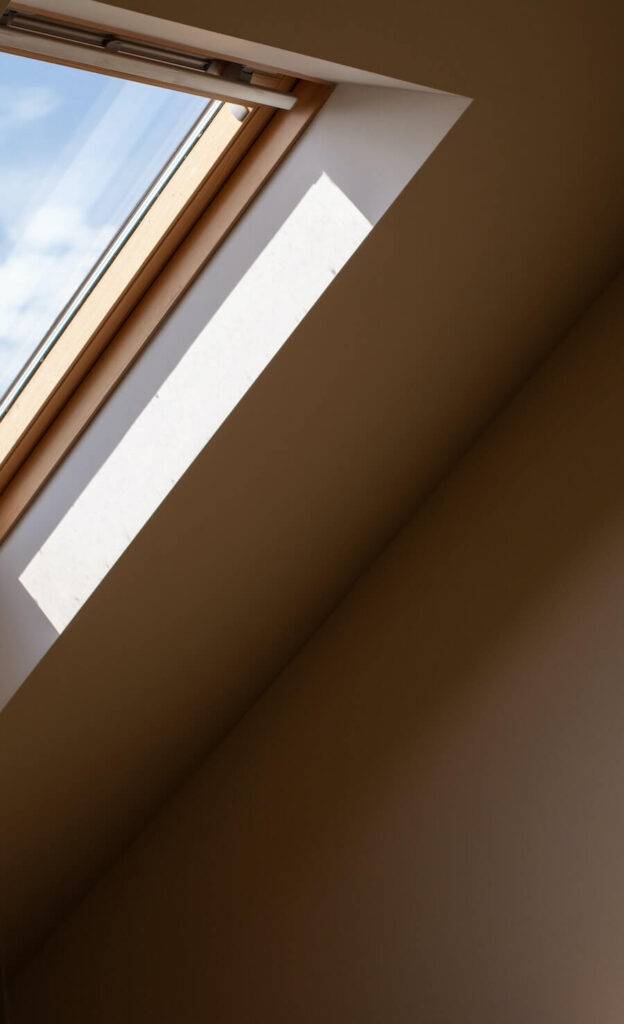 Any skylight that is designed to be opened can be considered a vented skylight. While the most common design is a simple fixed hinge at the top of the pane that allows the window to be opened a short distance, there are many more options and designs on the market, including electric skylights, models with remote control opening, options with built-in blinds, and even solar skylights that use the sun's energy as a power source to open and close. 
Venting skylights let in fresh air, help hot air trapped at ceiling level escape, and can be used as emergency exits if they're built according to code.  
Also called "sun tunnels" or "solar skylights" (not to be confused with solar-powered ventilated skylights, which we discussed earlier), tubular skylights are long, relatively small tubes that capture sunlight and reflect it down into your home. Because of their smaller size and footprint compared to fixed and vented skylights, tubular styles are an excellent choice for small spaces like hallways or bathrooms. These skylight frames can fit effectively around an existing roof face, so they can be installed in spaces where traditional skylights can't. Modern tubular designs even incorporate dimmers and exhaust fans to control how much light they let in and help keep them free of excess moisture.  
Curb-Mounted and Deck-Mounted Skylights
Broadly speaking, skylights can be broken down into two primary styles: curb-mounted skylights and deck-mounted skylights. Curb-mounted styles are placed on a custom or manufactured "curb" that is built separately from the skylight. (usually made from wood or aluminum) This gives you more options for location, placement and custom features. Many styles, including pyramid skylights, are curb-mounted to make custom shapes easier to install.  
Deck-mounted skylights, on the other hand, have a built in curb that is attached to the class. This results in a lower profile and increased energy efficiency. They come with their own manufactured flashing kit as well. Both styles can work on a variety of roofs, but curb-mounted skylights typically work best on low-pitched or flat roofs, while deck-mounted options are best for steeper roofs. 
Common Skylight Materials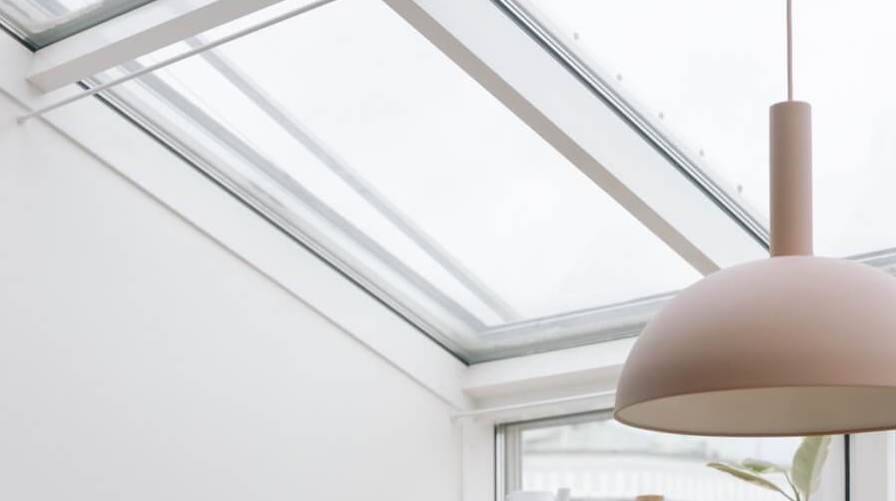 Glass, Acrylic, or Vinyl Skylights
Glass, acrylic, and vinyl skylights make up the vast majority of skylight styles on the market, and for good reason! These three material categories cover a wide range of uses, applications, and budgets, so most homeowners find their ideal skylight solution between one of them.  
Glass skylights are the most durable of the three and can be further enhanced through tempering or lamination to increase their resistance to scratches, make them safer, and help them provide more insulation for your home. Tempered glass, in particular, is preferred for homeowners concerned about glass shards if their skylight is damaged; instead of shattering into sharp, large shards, tempered glass breaks into tiny, harmless pieces.  
Acrylic skylights, sometimes referred to as poly glass or plexiglass, are lightweight and cheap but are also the most likely to scratch and wear down quicker with exposure to UV rays; over time, they even discolor and gain a yellow tint that affects their appearance and limits the amount of light that gets through. Plastic skylights and vinyl options are also available, with similar benefits and drawbacks.  
Aluminum is a tough, durable, and lightweight metal that can make an excellent choice for your home's new skylight. Basically all quality skylights are made with aluminum frames, making them the strongest and most durable types of skylights on the market. Compared to older cheap types of skylights that might not even have a frame. The aluminum is referring to the frame around the skylight that holds the class in place and attaches to the roof. Inside the aluminum skylight frame are features that seal the glass to the skylight creating a perfect water tight seal. 
Considerations Before Installing a Skylight
Like any major home investment, there are a few pieces to consider before you make the leap. Skylights can have a significant impact on your home's value, aesthetic appeal, and comfort, but they may not be the right choice for every homeowner. While you're weighing the pros and cons of investing in a skylight for your home, don't forget to consider the following questions.  
What is the Average Lifespan of a Skylight?
Depending on the brand and the type of material, skylights can last anywhere from 8 years to 30 or more. A skylight's lifespan can be affected by a variety of factors, including the local climate, the quality of the installation, what kind of skylight glass was used, and more. The top points of skylight failure are often the glass itself or issues with the edges or flashing where the skylight meets the roof. Homeowners can prolong the lifespan of their skylight with professional installations and proper maintenance over time.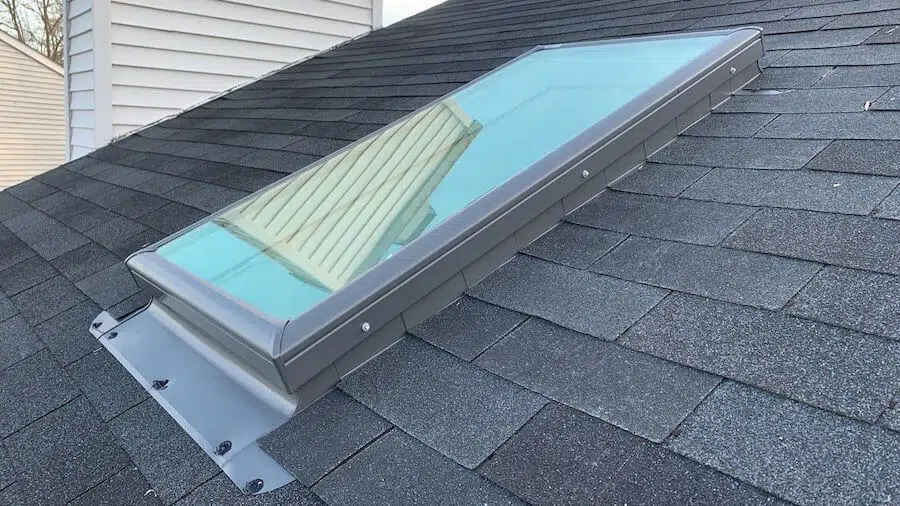 When purchasing a reputable brand skylight such as Velux, you won't have to worry about leaks from the skylight itself, and if it were to leak, they offer great manufacture warranties.
Most often, if you have a leaking skylight, it's a result of poor installation. It could be coming from the roofing material around the skylight or the flashing kit. 
If skylights are not maintained and properly taken care of, they can develop leaks. For example, if debris build up on the roof around the skylight, water can back up under the flashing.
Old skylights are most prone to leaking as the material that makes up their seals wears down and becomes less effective at preventing water from slipping between the joints where the skylight glass meets the frame. 
Do Skylights Make a Room Hotter?
While we do offer tinting options for the skylight class, a room can experience noticeable heat gain, especially in the summer months, if a skylight is installed. This is a simple physical side effect of the fact that skylights allow direct sunlight into your home, which warms up surfaces and causes them to release heat. Heat loss is also a potential problem in the winter; even though glass is a decent insulator, some of your climate-controlled heat can escape in similar fashion to a regular window.  
However, modern solutions have increased the energy efficiency of skylights and, as long as they're maintained, you shouldn't expect to see a drastic difference in your energy bills. If excess heat is still a concern, skylight windows can be equipped with shades, and solar skylights can absorb some of the excess heat while automatically closing pre-installed blinds to help keep your home cool and comfortable.  
Contact a Professional for Skylight Installation or Repairs
You'll want to hire a contractor who is certified with the skylight manufacture, this will help narrow down your reputable options. Like any major home improvement project, skylight installation and repair are jobs best left to the professionals. Mistakes with this kind of work can lead to water damage, wood rot, mold growth, structural problems, and all kinds of other issues, so always contact a proven, trusted professional to help you get the work done right.   
RoofPRO Offers Skylight Installation, Repairs, and Maintenance
For almost twenty years, the top-rated team at RoofPRO has been installing and maintaining skylights throughout Central Maryland and beyond. In all that time, we've developed a reputation for our industry-leading installation process, top-notch customer service, and our dedication to superior results! We offer a wide range of home skylight services and selections to help you build the perfect skylight for your home — or keep the one you have in great shape for years to come.   
Trusted Contractors in
Maryland Since 2004
Since 2004, RoofPRO has been the go-to, trusted roofing and skylight contractor in Central Maryland and the surrounding areas. 
Over the years that we've spent living and working throughout Central Maryland, our team has become a valued part of a community that we're proud to serve. We've worked hard to develop a reputation for honesty, integrity, hard work, and reliable results, and we strive to earn that reputation every day! 
Our clients trust our team to help make their dream home a reality, and that's not something we take lightly.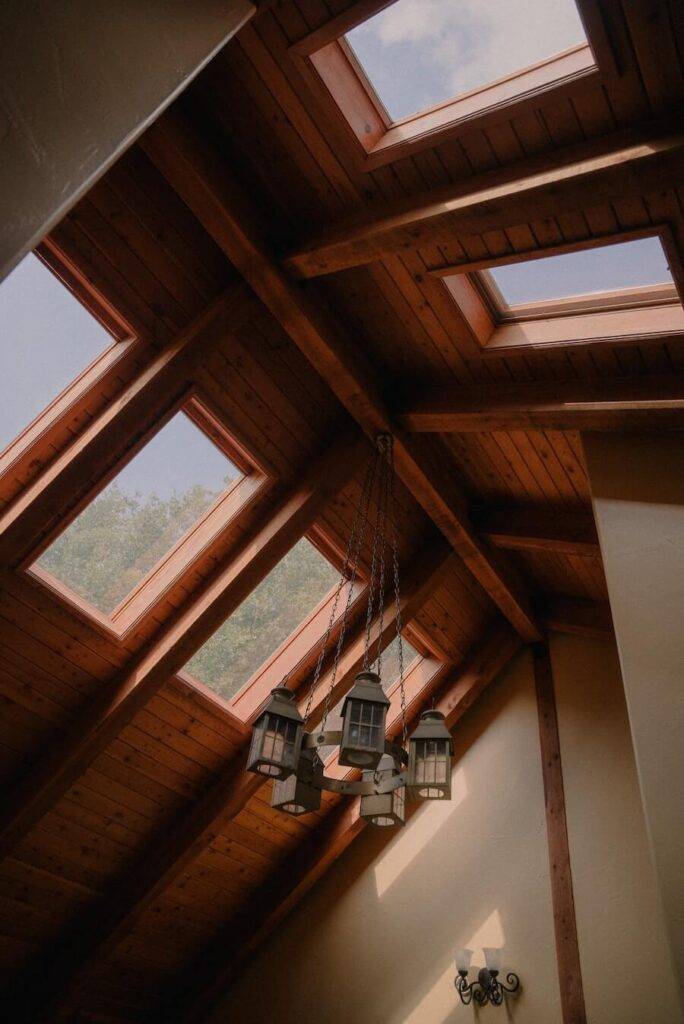 Contact Us Today for a Free Estimate
To learn more about the benefits of natural lighting and how a high-quality skylight can make an incredible difference in your home, contact us today for a free estimate.