Choose The Right Roofing Material
Here we will review the different types of roofing material and the benefits of each type. We also discuss a few key things to consider when choosing one piece of material over the other.
Flat Roof Or Sloped Roof?
Anything that has a slope of 3/12 or lower requires flat roof material. They aren't actually perfectly flat, because if they were, the water would sit on the roof. If water is sitting on your roof, you need to have it sloped just enough to get the water off.
3/12 means that for every 12 inches, the slop increases by 3 inches.
Sloped roof is anything 4/12 and higher, even up to 12/12. When the roof becomes so steep that it is basically straight up and down, there installation requirements change as well.
What To Consider When Choosing The Right Material
The wind warranty. Some roofs are warrantied only up to 60mph compared to 130mph warranty that you get with an enhanced warranty on a Duration shingle.
The curb appearance. The most common shingle in the area is either a three-tab shingle or an architectural shingle. But there are other shingles that imitate the look of slate not to mention, slate and metal roofs which have as significantly nicer appearance.
Manufacturer reputation. There are some architectural shingle manufactures out there that have a horrible reputation of having their shingles blowing off. Not every architectural shingle is the same.
How long do you plan to own the house? Shingles can last between 25-years to 50-years. But, a 25-year shingle can't withstand high winds and you might be asking for trouble.
What could fall on your roof. Hail, tree branches or excessive debris from trees is important to consider. For example, a sloped roof with a lot of trees around it might benefit from a shingle that is built stronger to withstand hail, like the Duration Flex shingle. If you have a flat roof there are different thicknesses to the material, which can help. Also, a roof like a single-ply TPO roof will have less seams, which will be helpful a lot of debris sits on the roof.
Types Of Roofing Material
There are multiple types of roofing and each type has a specific purpose and advantage. Choose the type of roof that best fits your needs by reviewing the list below.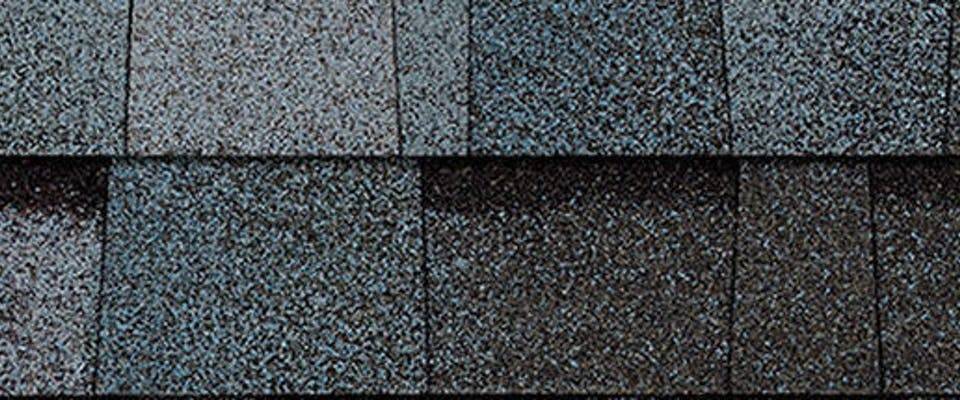 Asphalt shingles are the most common type of roofing in this area for a sloped roof. These products are warrantied by the manufacturer up to 25 or 50-years depending on the type of shingle chosen.
There are so many different manufacturers and inside each manufacturer there are many different types of shingles, each with its own list of benefits. For now, the general benefits are listed below.
It's important to remember there are a lot of limitations and fine print around the life expectancy of a shingle, the warranties, and wind resistance. We go into more detail regarding manufacturer warranties and the fine print here.
Benefits Of A Shingle Roof:
Less expensive. The labor involved is less and the material itself is less expensive than other types of roofing material.
50-year Warranty. Manufacturers provide Limited Lifetime warranties on their asphalt architectural shingles. But in general, there are options for shingles up to 25 or 50-years depending on who installs them and how they are installed.
Wind resistance between 60mph to 130mph. There is a lot of fine print that goes into these wind warranties so sure to see our warranty page.
Impact resistance. With Duration FLEX®, you are getting a shingle that has the highest impact rating possible: UL 2218 Class 4 and may qualify for a homeowner insurance discount – check with your insurance company.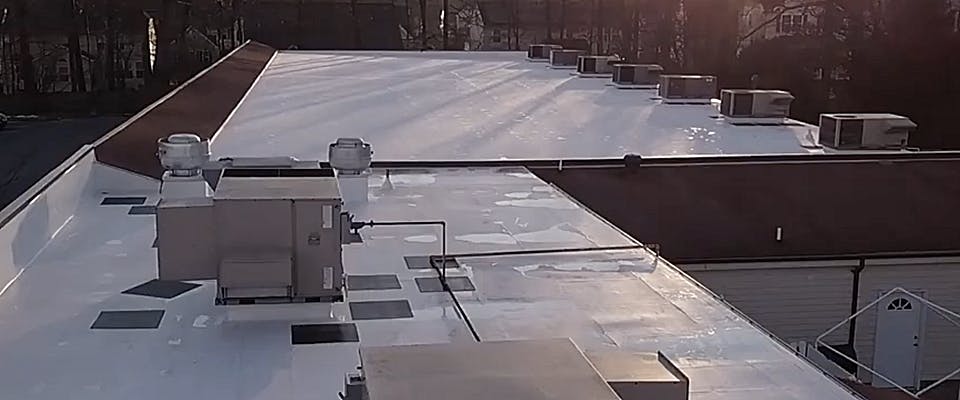 There are many types of flat roofing built to last anywhere between 12 to 30 years. For most residential flat roofs, a granulated rolled roofing is used, which is an asphalt base roof and lasts between 12-15 year. Whereas products like TPO, which are made of synthetics can last between 15-30 years. There are also types of flat roofs that are designed for situations where you want to use you roof as a deck. These materials are built with a more durable material designed to be walked on.
A "asphalt rolled roofing" is referring to products like the Owens Corning DeckSeal. "Single-ply" refers to products like TPO and EPDM.
Benefits of Asphalt rolled roofing:
Colors can match your shingle roof. This is most common with residential flat roofs because of how they match the shingle.
Slightly more cost effective than other flat roofs like TPO. While TPO would last longer, the square footage price is closer to the shingle square footage.
Warranties up to 15 years. This requires a specific installation procedure that includes putting two layers of base sheet before the final layer of roofing.
Benefits of single-ply roofing:
Heat welded system. This insures a tighter seal between the sections of roofing material, which tend to be one of the first things to break down as the roof gets older.
Warranties up to 30 years. Depending on the thickness of the material. The most common thickness will be either forty-five mil or sixty mil.
Less seams, which means less chance of leaking. There are also more variations for how to install the material so it increases the types of buildings and scenarios where this product can be used.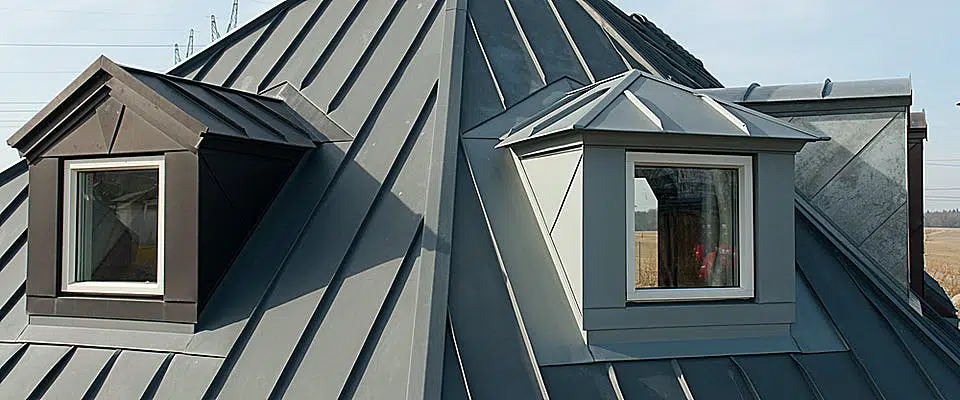 While there are many different styles of metal roofing, there are two main types in this area, a corrugated and a standing seam. The picture above is a standing seam roof. The corrugated roofing will be installed with fasteners on the outside, which leaves it susceptible to weather and in need of more maintenance. Standing seam roofing hides the fasteners and will last longer as a result.
Benefits of Standing Seam Metal Roof:
Life expectancy. It's possible to maintain a metal roof through proper coatings and painting that will significantly extend the life of the roof.
Impact Resistant. Class 4 impact resistant .
Less Maintenance. The entire system is tightly locked together and can take a heavier beating which means there is less chance of minor details needing to be touched up. While a lot of roof systems will have exposed fasteners in the flashing and such, this system has it's fasteners hidden. .
House Value. You will recoup a far greater percentage when selling your house because of a standing seam roof than you would with a shingle roof.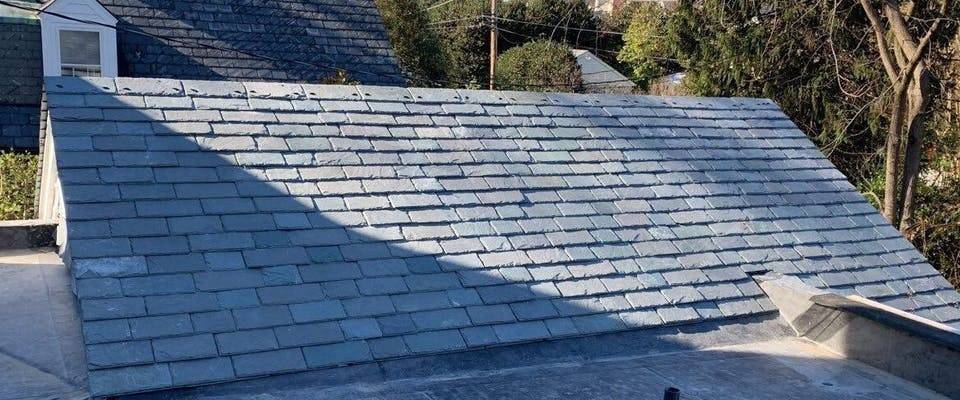 There are two types of slate roofing systems. One is natural slate and the other is synthetic material. Both are pretty expensive because of how many years the product lasts and the labor and material costs more than something like shingles. There are many variations to slate, which effect how long they last. Fun fact, the actual slate tile is not the waterproofing agent, it's actually the type of underlayment that waterproofs the house.
Benefits Of Natural Slate:
an last up to 100+ years. This is determined by the thickness and type of slate. The most common slate in the area is pretty thin though.
Fire resistant. Class A Fire Resistance Rating. This can come in handy when on a row home where you have houses on either side of you.
Wind resistance. 130+ for natural slate.