If you're contemplating a new look for your home, a new roof color could be a game-changer. But, choosing a new roof color can be a big decision, so how do you know you're making the right choice? In this helpful roofing color guide, we explore some of the things homeowners should think about before picking a color and review the most popular options for roofing colors in 2023.  
Plus, for homeowners in Maryland, RoofPRO is happy to meet with you for a free in-person consultation to discuss what would be best for your home. Just give us a call or contact us to schedule your consultation! During the consultation, we can bring shingle samples to help you select and narrow down the options. With these samples, you'll be able to physically touch little cut-outs of each shingle and look at a sample board to see the contrast between the different options.
Once you've narrowed down your choices to two or three color options, we can bring a handful of actual asphalt shingles and lay them on your roof in a way that you can see it from the ground, helping you get a feel for what your roof will look like with those colors. 
Are You Looking to Provide a New Look for Your Home?
The color of your roof has an obvious impact on the overall appearance of your home, but it can also go beyond aesthetics. The right shingle color should complement the rest of your home's exterior and accentuate its architectural features. For example, darker colors can make a large house seem smaller, while a light-colored roof can make a small house appear larger. 
A well-chosen roofing material can increase your property's value and curb appeal and also improve energy efficiency. No matter what type of roofing product you choose, whether it be shingle, slate, or metal, you have a wide variety of color options available!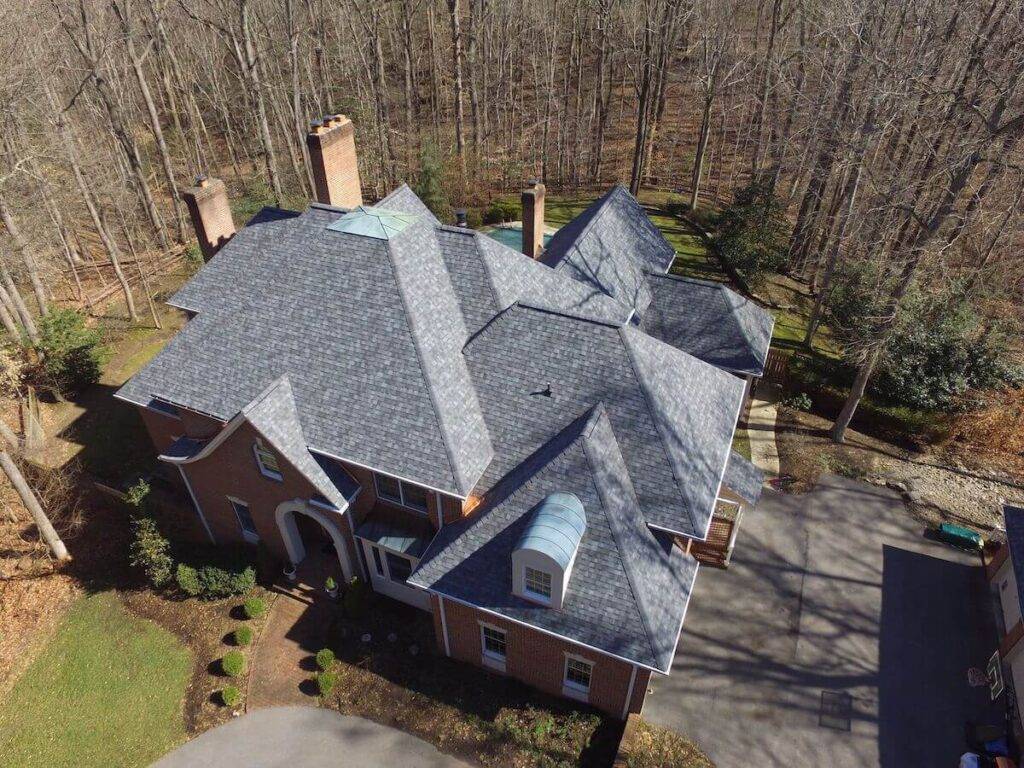 Considerations for Choosing Roofing Colors
Choosing a color for your roof that matches the rest of your home and matches your personal preferences should be a priority. You'll want to take into consideration everything from your home's siding, shutters, and doors to the surrounding homes and even the landscaping of your property when selecting your roof color. 
Here are a few additional things to consider before making your decision: 
• Do you want to stand out from neighbors or blend in? 
• Does your HOA have any restrictions for different colors? 
• What roof colors match the rest of your house? 
• Do you want to consider Energy Star-rated shingles? (which are limited to lighter colors) 
Does Texture Come Into Play?
The short answer: absolutely! A high-contrast color blend can emphasize the texture of your roof, while a low-contrast blend will give a smoother look. Almost all shingles come with blended color tones; for example, dark brown shingles might also have elements of red or black blended in. This gives the shingle a nice textured look when you stand back from the house.  
Yet, while almost all shingles will have blended tones, shingle manufacturers will often separate the lines of shingles into two categories, ones that have more of a softer blend and those that have a stronger blend. For example, the difference between Owens Corning Duration shingles and Owens Corning Duration Designer shingles. The Designer line has more of a pop to it, and the shingles stand out to a greater degree. 
The type of shingle can also impact the textured appearance of your roof. Architectural shingles come with a strong textured look in their colors compared to three-tab shingles, which often have a flat look to them. While the shingles themselves may feel the same when you hold them, when standing on the ground looking up, you'll see a difference! 
Consider the Natural Surroundings of Your Home
For instance, if your house is nestled amidst greenery, you might want to opt for earthy tones to blend your home seamlessly with the landscape. A home surrounded by trees should also consider the debris that will likely collect on the roof, and if you have either a bright color or a white shingle, the loose leaves and branches will stand out more. 
Contrast this to a home further away from other homes, perhaps set back from the road a bit; it might be nicer to have a brighter color, such as a blue or even a green shingle that will help the home stand out. 
If you're near the ocean, shades of blue or gray might be more appropriate for the area. Another consideration would be if you tend to have a lot of algae growth on your roof; this could be a reason to choose a darker shingle so that the algae stains don't stand out as much!  
Matching Siding and Shingle Colors
There is a lot of flexibility when it comes to matching shingle and siding colors.  
For shingle roofs, you can pick a predominant color and then also blend it with supporting colors. When you look at the roof shingles closely, you will see the variation in the granules; this gives you the ability to blend it with many different styles and colors of siding. 
Homeowners can also look at the color of their roof as an accent wall, where it stands out from the rest of the colors on the home. We've worked on beautiful houses with white siding and a blue roof and have seen homes that can pull off cream-colored siding with a green roof! 
Finally, some houses will have siding that is one color and use bold different-colored accents on the house, like corner posts, doors, and shutters. In this scenario, having a shingle that brings a third color might be too much, so it is best to go with a neutral shingle color that matches the siding or accents. As you can see, there are many variations and combinations that you can explore!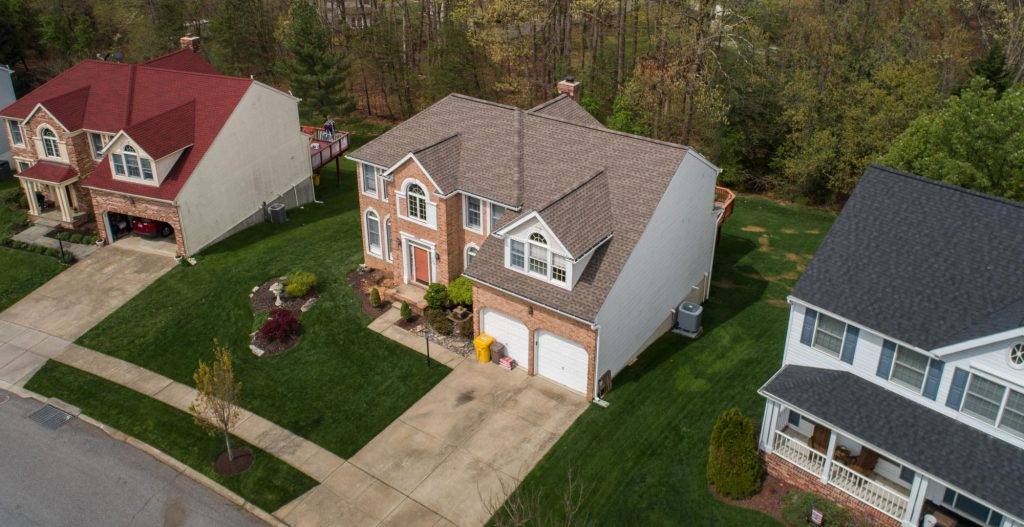 The choice between warm and cool colors depends largely on your personal preference and the style of your home. Warm roof colors include brown and red hues, which tend to be a bit more subtle and can make your home look inviting and cozy. On the other hand, cool colors like blue, gray, or white can give your home a sleek, modern look.  
Matching Existing Colors for Roof Repairs
Matching existing colors for roof repairs is a tricky topic because shingles will fade over time due to sun exposure. So, a 15-year-old shingle will look different than a brand-new one that is used for repair. When your roof is older, and you're trying to match a shingle, you're typically left with two options, find a shingle that is not technically the same color but matches the faded look, or a shingle that is technically the same color but will then stand out.  
If you are trying to match your existing shingles, the first thing would be to try to look at the back of the shingle; sometimes, the manufacturer will put their name on it! Since there are a lot of different brands out there, this is helpful to narrow it down. Next, you'll want to look at the specific granule colors. Granules are the little stones on the shingle, almost like sand, that protect it from the sun. Manufacturers will make the shingle with different shades of granules which will help you distinguish the shingle.  
There are also other features to look for, like the size of the shingle and the lines of where the granule colors start and stop. It can get complicated, which is why you'll want a professional contractor, like RoofPRO, to help out with all roof repairs! 
What are Some Popular Roof Colors in 2023?
Most roofing material manufacturers use specific, branded names for the colors of their shingles, but to keep it simple, let's look at the most popular groups of colors that we're seeing installed in 2023! 
Light gray is a versatile color that works well with almost any exterior color scheme and gives a modern and clean appearance to your home. We see a lot of homeowners choose the light gray shingles because they want one that will not absorb as much sunlight as a dark roof and help keep the attic cool, but also not be so white as to stand out when and if it gets dirty! 
Dark Brown or Light Brown
Dark and light browns are excellent choices for homes with a more traditional style. These colors complement natural surroundings beautifully and blend well with many different types of siding. They don't stand out compared to other brighter colors, and it's not as dark as a black shingle. 
Blue or Off-White Hues for Standard Shingles
Blue and off-white hues are becoming popular choices for coastal or cottage-style houses. These colors tend to stand out a bit more and are a great option for homeowners that want to make more of a statement with their roof color.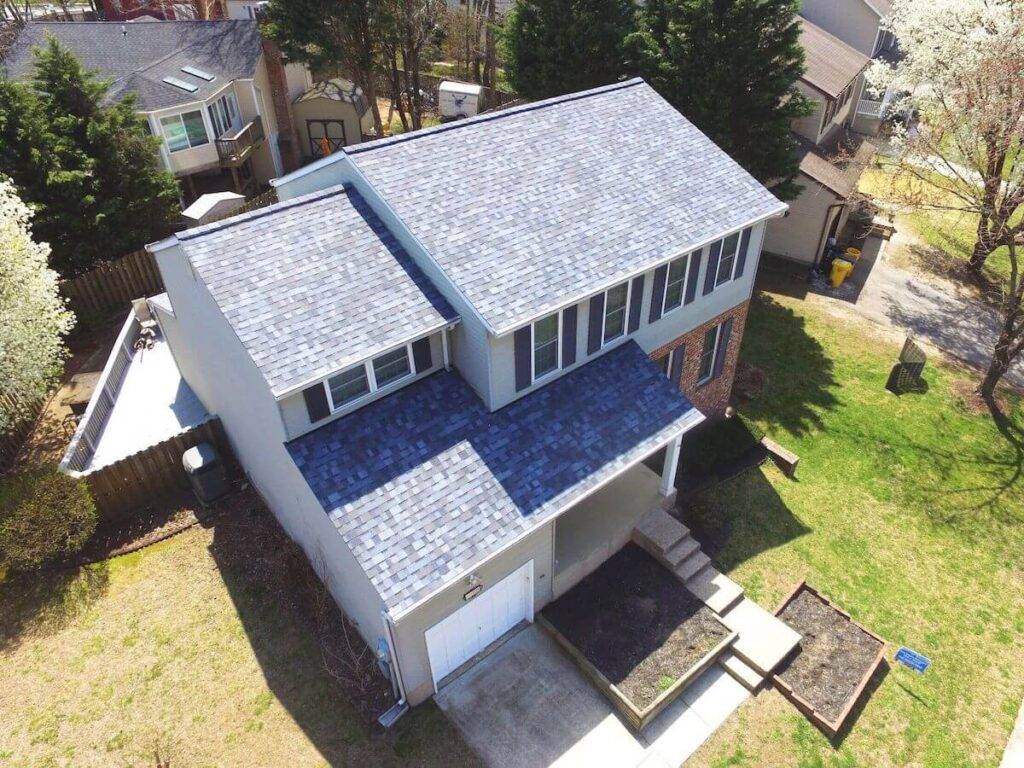 There are both bright and dark green shingle options available. We've seen homeowners choose these options in scenarios where they want to match the shingle to a specific aspect of their home or landscaping.   
Manufacturers That We Work With Offer a Wide Selection of Shingle Colors
Industry-leading brands such as Owens Corning, CertainTeed, and GAF, have all certified RoofPRO to be an installer for their shingles! We are proud to work with all the leading shingle manufacturers and are able to offer a wide variety of shingle colors and options. If you have a specific manufacturer in mind, we can show you samples of their shingles and provide tangible options for you to choose from.
Why Work with RoofPRO for New Roof Installation?
RoofPRO's professional roofing contractors can provide expert advice on the best roof color options for your home. We take into account factors such as the architecture of your home, local Maryland weather, and your personal preferences to give you the best options for your property. Plus, we offer free in-person consultations and bring color swatches to your home so that you can get a feel for what your new roof would look like! 
Contact Us Today for More Information