Storm damage can be a nightmare for homeowners, leaving them with costly repairs if the issues are not addressed quickly. Severe weather events, such as hurricanes, thunderstorms, high winds, and snowstorms, can all cause significant damage to your home's roof, gutters, and more. In this article, we will discuss the common signs of roof storm damage and ways to respond.  
Roof Storm Damage Can Come Unexpectedly
Storm damage can happen in the blink of an eye, leaving homeowners feeling overwhelmed and unsure of what to do next! It's vital to take the necessary steps to address the damage quickly to prevent further problems from arising. Read on to learn more about what to do when experiencing severe storm damage to your property. 
What Should Homeowners Do After Bad Weather Events?
After a severe weather event that leaves damage in its wake, homeowners should take caution and follow these next steps to assess and ensure that their property is protected.
Survey Your Property for Signs of Damage
Homeowners should walk around their property and look for tell-tale signs of damage, such as missing shingles, dents in gutters, or broken siding. It's important to take note of any damage you find in order to share with your insurance company and your roofing contractor down the line. 

Contact a Roofing Contractor for an In-Depth Inspection
Contact a trusted roofing contractor, like RoofPRO, for an in-depth and professional roof inspection. A professional roofer will provide a detailed assessment of the damage and recommend the best course of action to remedy the situation. They can also make a record of the damage if you are placing a homeowners' insurance claim! 
Don't Wait to File an Insurance Claim for Storm Damage
It's crucial to immediately ask your insurance provider about filing an insurance claim after experiencing storm or wind damage. As time passes, the restoration process could also become harder. Contact your insurance company as soon as possible to ask them about starting the claims process and get the repairs started right away! 
What are the Most Common Signs of Storm Damaged Roofs?
There are several common signs that your roof has been damaged by a recent weather event. Below are some of the most obvious signs of storm damaged roofs that homeowners can identify on their own. 
Loose or Missing Granules on Shingles
Loose or missing granules on asphalt shingles can be a sign of storm damage to your roofing system. Hail can cause the granules to be dislodged, exposing more of the asphalt of the shingle. If the wind is strong enough to blow shingles up, it can also cause granule loss as the shingles fold in half.  
These granules protect the shingles from the sun, so missing granules can will cause the shingle to age faster. Unfortunately, this type of damage is normally missed unless you walk the roof and get a close view of the shingles. Keep in mind, sometimes hail only hits one side of the roof, so you'll need to check all slopes
Missing or Loose Shingles
High wind storms will sometimes blow the shingles up and even rip them completely off your roof. Although sometimes the wind will just break the seal, causing the shingle to bend backwards but still lay in place after the storm. So it's not always easy to see from the ground.
Hail Damage (Dents in Metal)
Hail damage can leave dents in the soft metal on or around your home. For example, the ridge vent is sometimes aluminum along with vents on the roof. We've added a photo here of brown ridge vent where we used a blue piece of chalk to show the dents. 
Hail can also damaged siding, especially old and brittle siding. It will leave punctures and breaks in the siding all around. Remember that since hail might only hit your home from one side, you will need to check all of your siding.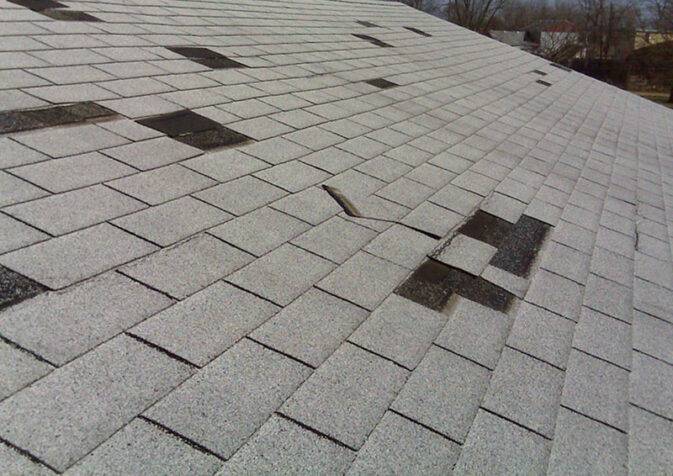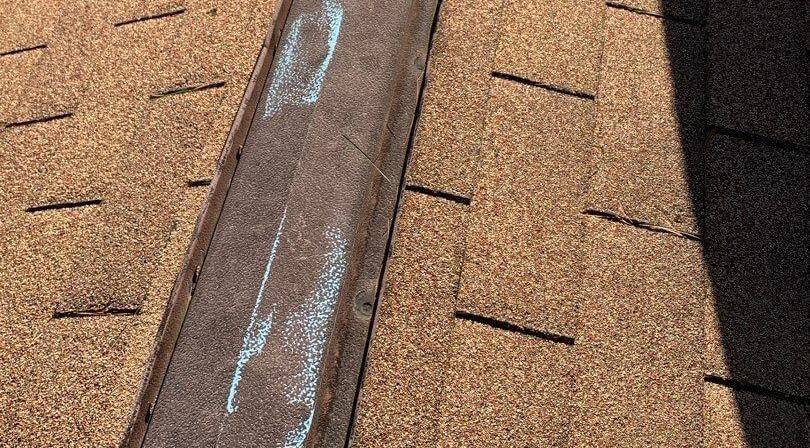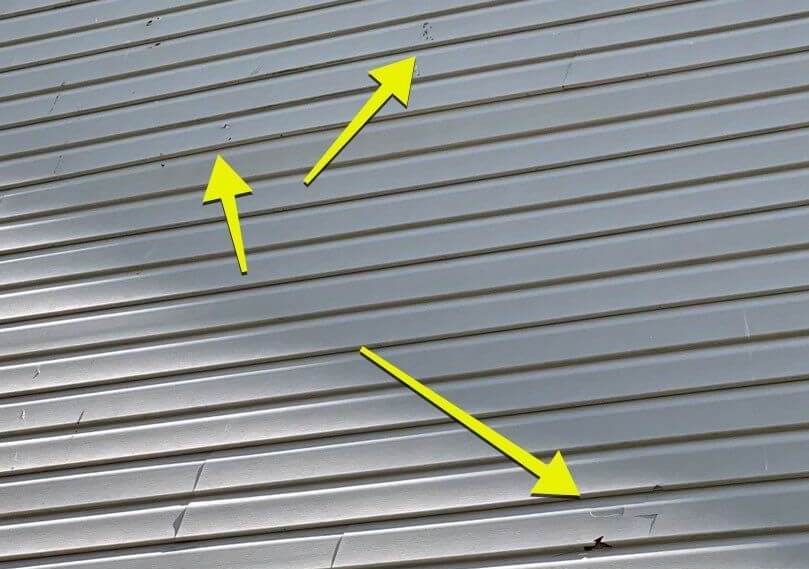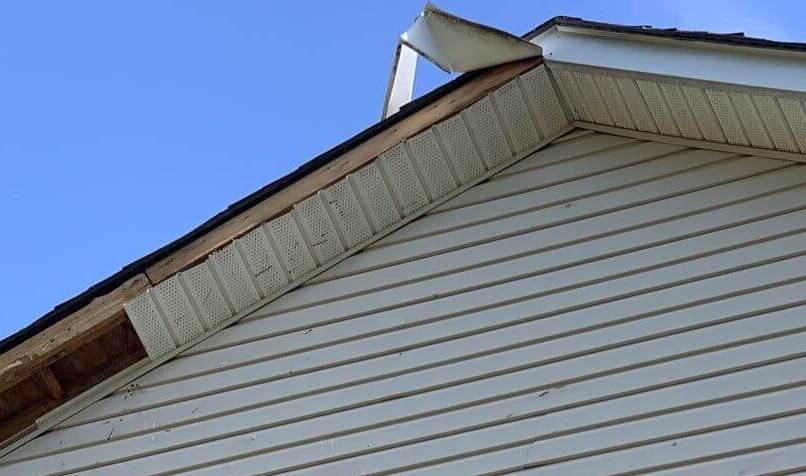 Soffit, Fascia, Gutter, and Rake Metal
Soffit, fascia, gutter, or rake metal are all places that need to be inspected after a significant storm. Sometimes the storm damage will be so bad that with an easy visual inspection you'll see missing soffit or bend and damaged rake metal. But with hail damage, the dents to the metal or chips in paint might be harder to see, unless you get closer to that part of the house.
Storm Debris on Your Roof
Storm debris, such as tree branches can either fall or the wind can blow the branch into your roof. So even if you don't see branches that have fallen, damage could still have been done. We've seen branches that puncture the shingles or hit the edge of the roof, damaging smaller sections of the eaves and rakes.
Homeowners Trust Our 20-Years Of Storm Damage Repair?
RoofPRO is a trusted roofing contractor with nearly 20 years of experience providing top-rated roofing solutions to homeowners in Maryland. Below are a few reasons why homeowners trust us as their contractors for their storm damage roofing needs. 
Top-Rated Roofing Solutions Since 2004
Check out the reviews we have at the BBB. RoofPRO has been providing top-rated roofing solutions for Marylanders since 2004. Our team of experts has years of experience in the industry and uses only the highest quality materials and products to ensure the best possible results. We are committed to providing exceptional services to our customers, and our reputation speaks for itself! Check out our past projects gallery here.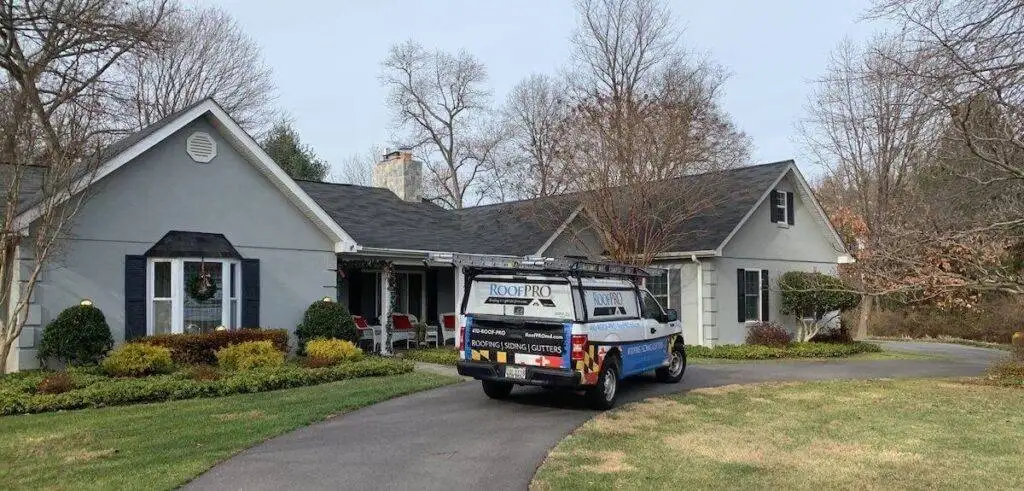 Offering Repairs and Full Roof Replacement Services
We offer a wide range of services to address your home's storm damage needs, from minor roof repair to full roof replacements. Our team will work with you to find the best solution for your needs and budget! Reach out to us today to schedule a free estimate. 
Trusted and Localized Expertise with Storm Damage
At RoofPRO, we have localized expertise with storm damage. We understand the unique challenges of Maryland weather and have the experience and tools necessary to address storm damage quickly and efficiently. We are committed to providing reliable and professional services to keep your property protected and looking its best! 
Contact Us Today for a Free Estimate
If you need help with storm damage to your property, contact RoofPRO today for a free inspection and estimate. Our professional team will work with you to find the best solution for your home, and we are committed to providing exceptional customer service every step of the way. 
Reach Out to RoofPRO!
Contact our team today to schedule your free roofing estimate!