Serving Baltimore & Washington Metro Area
Everything You Need To Know About Your Roof
We want to give you as much information as possible so they can make the educated and safest choice for their roof replacement and home improvement projects.
TOPICS COVERED ON THIS PAGE: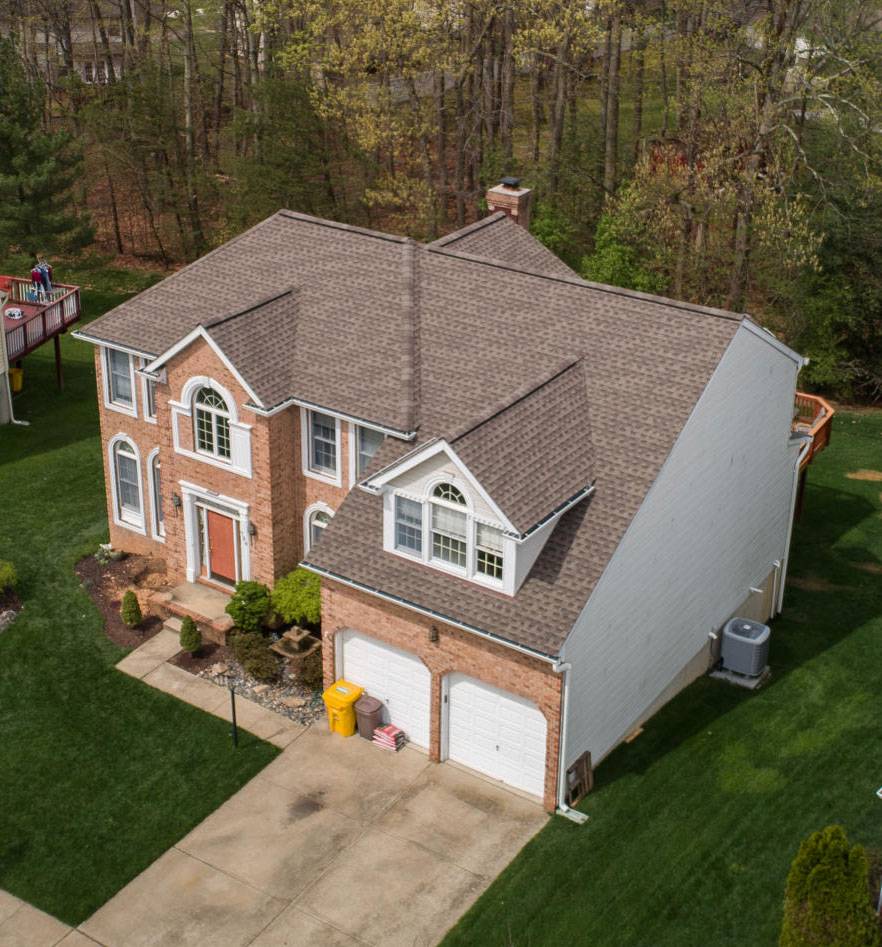 Hear from third-party organizations regarding what it will cost to replace a roof. Along with a review of local contractors and the estimates they have provided to show how much companies are charging to replace a roof.
Between the size of your roof and the type of material you want on your home, the price can vary significantly. We will demonstrate from the Cost vs Value report that is produced every year, exactly what contractors are charging.
Click Here – $3,000 to $20,000? Check Roof Pricing
What Determines The Cost Of A Roof
Size of the roof.
Difficulty and style of roof.
Type of material.
Building code upgrades.
Required ventilation changes.
Enhanced warranty.
Pitch of the roof.
Accessories, such as skylights and more.
See Pricing Page Above For More Details
Here we demonstrate the different options and give details about each type. Choose from the many types of roofing material available for both sloped and flat roofing. Identify the pros and cons that best fit your home. Every type of roof has a different purpose and life expectancy. Some shingles a life expectancy of 25 years while others come with a 50-year warranty. Some flat roof material is expected to last 10 years while others go up to 30 years. On this page, we will discuss architectural shingles, TPO flat roof, and granulated rolled roofing.
Sloped roof material options:
Three-tab 25-year shingles
Limited Lifetime, 50-year shingles
Slate, Natural and Synthetic.
Metal, Standing Seam, and more.
Owens Corning, CertainTeed, GAF, and more.
Flat roof material options:
Self-Adhered granulated rolled roofing.
EPDM
TPO 
Mule Hide, Owens Corning and more. 
Choose your roof based off of life expectancy, wind resistance, warranty and more.
Not every roof qualifies for a warranty from the manufacturer. Homeowners will often hear the fancy talk of "Lifetime shingle" from their contractors and never realize they actually didn't qualify for the warranty.
Every warranty has fine print so are you sure you are getting the 50-year shingle warranty? Just because someone writes it on paper doesn't mean you are getting it. A contractor has to follow specific guidelines in order to actually give you the warranty from the manufacturer.
With the right things in place, you could have a 50+ year material warranty and a 25+ year labor and workmanship warranty. The manufacturer qualifies only a few companies to provide the highest level of enhanced warranty. Learn about manufacturer warranties and our company warranty.
DON'T BE TRICKED BY CONTRACTORS
Just because someone tells you they are installing a "50-year shingle" or a "Lifetime shingle" doesn't mean you are actually getting those things.
There is an out-of-the-box warranty that only lasts a few years and doesn't cover much. There is also an Enhanced Warranty, which significantly covers more, including workmanship.
There is a difference between labor and workmanship on your warranties. It's helpful to understand the two and how it affects you. Most importantly, read the fine print of your warranty.
There are many components on a roof and unfortunately, homeowners are taken advantage of by leaving critical items out. In doing so the warranty is void and the material itself doesn't last as long. 
Without proper ventilation, the warranty could be void. Without the proper underlayment or flashing, every penetration becomes significantly susceptible to leaking.
How important is ventilation or kick-out flashing? How does your attic affect the longevity of your shingles? It's imperative that you know what is required to prolong the life of your roof. Have the most important components and that you are able to check everything
Every sloped shingle roof needs the following items:
Underlayment, specifically ice and water barrier to protect the most sensitive aspects of your roof. 
Ventilation, aside from protecting against moisture in the attic, it protects your shingles so that they don't age too quickly. Especially since your Enhanced Warranty is dependent on adequate ventilation. 
Starter shingles from the same manufacturer as the shingles. This causes all the edges of your roof to seal down as they are designed to, which again protects your wind warranty. 
Flashing around all penetrations. The areas of your roof that need flashing, such as the pipes and walls, are the most common places where water will get in so they requirer the best material and care when installing. 
Ventilation – What Every Sloped Roof Needs
Ventilation in your attic is often overlooked but it has the most significant impact on how long your roof lasts and whether or not you qualify for the enhanced warranty from the manufacture. Every ventilation system requires a place for the cold air to come into the attic space and a place for the hot air to leave.
Older homes typically need an upgrade to their ventilation. A system like gable vents can be "approved" on paper but still do not offer the best solution to your ventilation. It's important to have every square foot of your roof deck vented if possible. The best ventilation system for this would be soffit-to-ridge vents. If you don't have soffit vents, you can have them installed but another option would be to install Owens Corning inflow vents that function the same.
You don't want to mix systems. For example, if you have gable vents and then install ridge cents, you actually do more harm than good because the air will come into the gable vents and go straight out the ridge vent. This will create "dead air space" where the air will not vent. In this situation, you will want to install inflow vents along with the ridge vent and then close off the gable vents.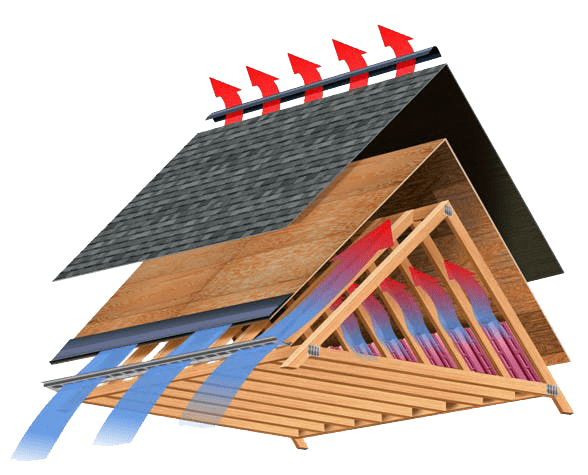 Save on your energy bill by having sufficient insulation in your attic. The ideal time for improving the insulation in your attic is when you are having the roof replaced. Every roof replacement requires an assessment of your attic ventilation in order to protect the life span of your roof. In doing so, the insulation is closely related. We have seen it too many times where a roofer repairs the ventilation and later someone installs insulation without the knowledge of how the insulation and the roof are related. As a result, the air-flow is blocked and the roof warranty is compromised.
It's important to have the same company install both the roof and the insulation to make sure that both systems work together properly. When improving the ventilation, it is imperative to install baffles when the soffit vents along the eaves are in use.
There are a few different types of insulation and if you are getting too much heat/cold in the top level of your house, you might need more insulation. See below for a general review of insulation.
Building Code and Energy Star Rating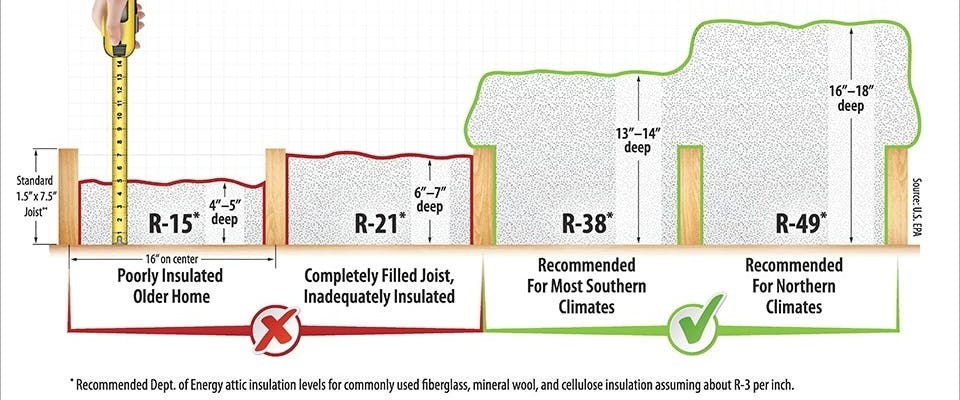 WHAT TO REMEMBER WHEN PUTTING INSULATION IN YOUR ATTIC
You must have baffles if your soffit vents are active, that way you continue to allow air-flow in the attic space.
Even with extra insulation, you still need specific coverings around recessed lights, the attic access point, and anything that is sitting above the drywall of the ceiling.
If you have boards in your attic for storage or walking, and those boards are pressing the insulation down, then your R-value is also lower, which means you are not getting the full protection in those areas.
BRAND NEW SKYLIGHTS
Velux is the leading manufacturer and they provide the best no leak warranties for their skylights. Here are a few options to consider when purchasing new skylights aka roof windows.
REPAIRING EXISTING SKYLIGHTS
There are typically two main reasons a skylight will leak.
Too often we come across situations where a previous builder put an addition on a house but didn't know how to tie the new roof into the existing structure.
The most common mistake here would be the flashing along the wall of a house. For example, you build a sunroom on your back porch and the roof runs up against the wall of the house. It is imperative that you install the proper flashing behind the siding.
Things to remember when putting a roof on an addition:
You still need proper step flashing or apron flashing where the roof meets the main house.
Whenever flashing is placed behind siding, it needs to be taped/go behind the house wrap.
A sunroom or porch roof still needs underlayment.
If the addition is an enclosed dwelling, you will need ventilation and ice and water underlayment.
OUR DIFFERENCE
We believe that a roof is more than a shingle, it's a system built of multiple components that when properly joined together with each unique essential facet will provide the longevity you need for your home. We bring you roof systems built to last, crafted with excellence and quality, a complete package from top to bottom.