RoofPRO has been in the business of roofing since 2004, providing top-notch solutions for both residential and commercial buildings. Over almost two decades of business, we've become known as one of Maryland's most trusted roofing contractors! Read on to find out more about our services and see why you should consider hiring us for your next roofing job! 
Trusted Roofing Solutions in Maryland
As a local, trusted roofing contractor in Frederick, MD, RoofPRO brings expertise and top-rated craftsmanship to every roofing project we take on! From minor repairs to major roofing overhauls, we provide tailored solutions for residential and commercial roofing. Contact us today for a free estimate! 
Residential Roofing Services in Frederick, MD
When it comes to keeping your home protected against the elements, your roof is the first line of defense! We help ensure your roofing is ready for anything, all year round, with our professional residential roofing services. 
Roof Repair and Complete Roof Replacement
Our business was built on the idea that if all the customer needs is a simple roof repair, it is our goal to meet that need. So we're willing to take on any kind of repair job necessary, and we'll use our years of experience to determine the root of the issue, so you don't need to pay for more repairs later down the line. 
However, choosing between a repair or a full replacement means assessing your roof and its condition. All roofing materials have a lifespan, and unfortunately, there will come a time when your roof needs a full replacement. RoofPRO's expert team of contractors can perform any roofing task for any type of roofing material, including asphalt shingles, tiles, and more! 
Emergency Roof Repairs for Storm Damage
Snow storms, rain, sleet, wind, and hail can all harm your roof. If your roof was the target of a recent storm and you require emergency roof repairs, get in touch with our team as soon as possible. We specialize in fixing leaks and storm damage in a pinch so that you can have peace of mind all year round! 
Does your residential property need an entirely new roof? If so, consider taking advantage of our new construction roofing services. With this process, we will perform a top-down inspection of the substructure or deck, whether on an existing home or new construction build, and begin installing your new roof based on our pre-discussed preferences. We take our new construction roofing seriously so that you can enjoy a high-quality, protective structure for many years to come. 
Regular Roofing Maintenance Programs
A good roofing maintenance program can keep your property strong and prevent problems in the future. Our roofing maintenance programs at RoofPRO entail periodically checking your entire roof, as well as performing spot repairs and debris removal to ensure your roofing is in good shape. These preventative measures can save hundreds if not thousands of dollars you could spend on roof replacement in the future!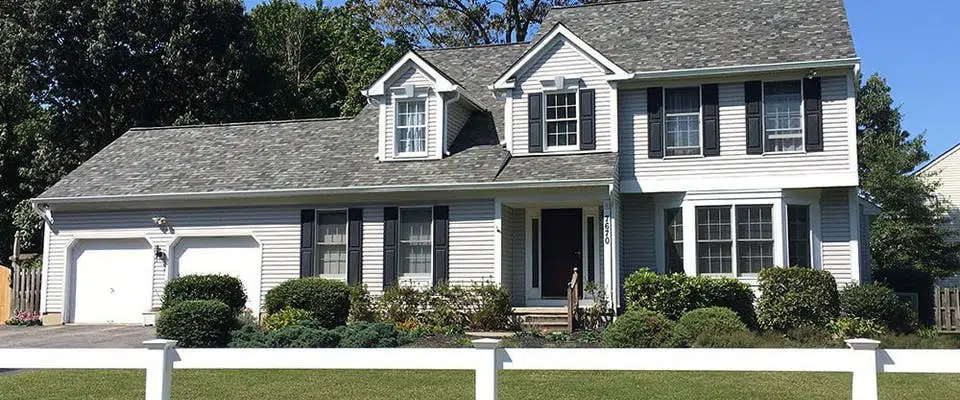 Commercial Roofing Services for Frederick Businesses
If you own a commercial flat roof building in Frederick, MD, allow us to help you with our trusted repair, replacement, and installation solutions. Contact us today for a free commercial roofing estimate! 
Flat Roofing Repair, Replacement, and Installation
Not all companies specialize in flat roofing, but we do. Hiring a specialized flat roofing company is important, as poorly installed flat roofing can be susceptible to leaks. This is because water doesn't run off flat roofs as easily as many other roofing materials, meaning it sits longer and has more time to seep into the cracks. 
Here at RoofPRO, our team is trained to work with all kinds of flat roofing materials to ensure a strong, leak-proof roof for years to come.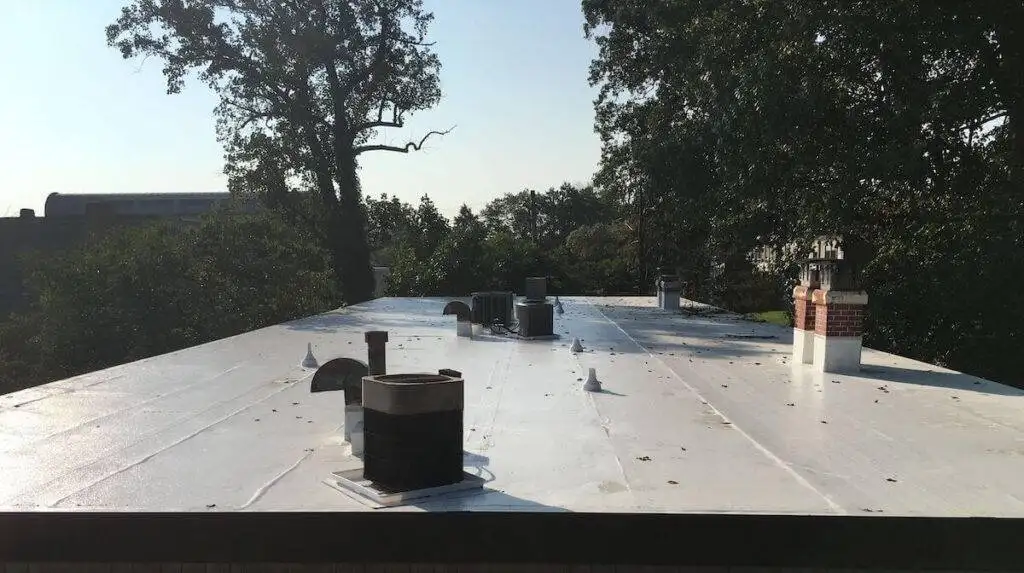 RoofPRO Brings Expertise with Commercial Roofing Materials
Our contractors at RoofPRO are experienced in several commercial roofing materials, including EPDM, TPO, and more! So no matter what material your building requires, we can help business owners find the right material for their budget and install it both efficiently and effectively. 
Reach out for a free estimate! 
Additional Services from RoofPRO
In addition to our top-rated roofing services, RoofPRO also provides trusted solutions for home exteriors in Frederick and the surrounding area. Whether you need attic insulation updates, siding installation, or skylight repair, we've got you covered! 

Attic Ventilation and Insulation Upgrades
Avoid problems with circulation in your home or office with proper attic ventilation and insulation upgrades. A solid combination of quality attic insulation and a well-ventilated design is critical for getting the most energy efficiency out of your attic, while keeping it dry all year round. 
Skylight Installation and Repairs
Skylights can offer a wonderful addition to any roofing system, as they are made to allow natural light into the home. However, if you have skylights that were damaged or poorly installed, they can also let in moisture and cause other problems for your property. Whether you're in need of a brand new skylight or a simple skylight repair, we can help!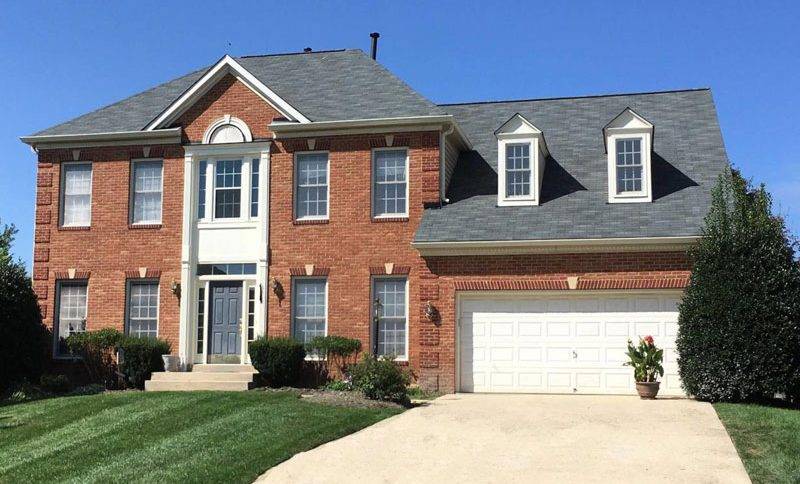 Solutions for Siding, Gutters, and Home Exteriors
Here at RoofPRO, you'll also find plenty of additional home improvement services, including siding, gutters, and exterior home solutions.
People often replace their gutters every 20 to 30 years, though external factors, such as inclement weather, falling tree limbs, and more, can have an impact on when they need to be replaced. We also offer siding services, working with some of the best materials in the business to create beautiful, long-lasting exteriors! Contact us today for a complimentary estimate! 
Why Hire RoofPRO in Frederick, MD?
One of the things people look for when trying to find the right roofing contractor to work with is their reputation. We believe that our dedication to excellence when it comes to our finished product, as well as exemplary customer service, has built our trusted reputation in the community of Frederick since 2004. 
Here at RoofPRO, we are endorsed by some of the biggest names in roofing and business, including Owens Corning, Certainteed, and an A+ rating from the Better Business Bureau. We allow our reputation to speak for itself, though we also ensure our clients that we are only using the highest-quality materials to get the job done! It is our priority to make sure your commercial or residential property is aesthetically pleasing, functional, and durable.  

Local Maryland Contractors Since 2004
RoofPRO has been serving the community of Frederick and homeowners across Maryland since 2004. With nearly two decades of experience working and living in the area, we take great pride in bringing our top-rated solutions to Marylanders far and wide. 
Contact Us for a Free, No-Hassle Estimate
No matter what kind of roofing needs you have, our team of Frederick roofers are ready to help! RoofPRO has been a staple in Frederick, MD, for many years, and our experienced team of roofing experts is ready to take on your residential or commercial roofing project. Contact us today for a free, no-hassle estimate. 
Speak directly with one of our roofing experts