Since 2004, RoofPRO has developed a reputation as one of the top roofing companies in Ellicott City, MD, and the surrounding area. In that time, we've proven our dedication to craftsmanship, reliability, and unbeatable customer service through our industry-leading home and commercial roofing services. From minor roof repairs after a storm blows through to a complete roof replacement or new roof installation, you can trust the team at RoofPRO to deliver the results you're looking for with easy, hassle-free solutions that will get your property back in top shape in no time! 
Professional Roofing Solutions in Maryland
We're here to help with all of your roofing needs, no matter how simple or complex. Our home improvement services are designed to provide solutions for your property using top-quality roofing materials and proven construction methods. We offer comprehensive professional roofing solutions for both residential and commercial properties throughout Maryland, and we're confident that our experienced team of top-notch roofers has a service to fit your needs.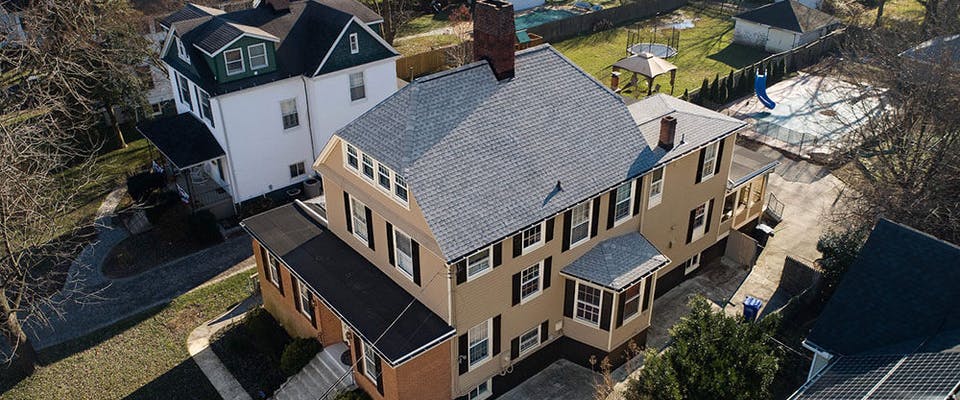 Residential Roofing Services for Ellicott City Homes
Your roof represents a significant investment in your home, which is why we've designed our top-rated residential roofing services to maintain it, protect it, and build it to last for years to come! Homeowners in Ellicott City know they can trust RoofPRO to take care of their homes, keep their roofs ready for the long haul, and protect their investments. Our residential roofing services include repair, replacement, and installation of every common roofing style, from asphalt shingles to metal roofing. We also offer a wide variety of additional home improvement services like skylight repair and gutter maintenance!  
Roof Repair and Replacement
Whether your roof needs a little TLC or you have an old roof that is due to be replaced, our roof repair and replacement services are here to help. A well-maintained roof is vital to your home's safety and overall value, so it's critical to take care of any needed roof repairs immediately. If you're in the market for a roof replacement after severe damage or wear and tear, we can make sure your new roof gets built right, boosts your home's curb appeal, and is ready to stand strong against the elements for years down the line. Reach out today for a free estimate! 
Storm Damage and Emergency Roof Repairs
When storm damage strikes, getting your roof repaired as soon as possible is essential to protect your home from additional water damage or worse. If bad weather takes its toll on your asphalt shingle roofing, clay tiles, or metal panels, call us immediately for emergency roof repairs! 
If you're in the process of charting out a new construction property, contact the professionals at RoofPRO for a free roofing estimate today. Our proven roof installation services can help bring your design together and provide a long-lasting and trustworthy new roof you can rely on. 
Regular Roofing Maintenance
Routine roofing maintenance is one of your most important responsibilities as a homeowner. Regularly inspecting and repairing your roof from the chimney to the gutters is one of the most cost-effective ways to extend your roof's lifespan and ensure it's ready to face whatever Mother Nature decides to throw at it. Catch minor problems in time before they develop into disasters with our comprehensive roofing maintenance services. 
Residential Skylight Installation and Repair
Some roofing contractors might avoid working on residential skylights because they require a little more finesse than your average roofing project – but not us. At RoofPRO, we're proud to offer trusted residential skylight installation and repair services to Ellicott City homeowners as a part of our A-Z list of professional roofing solutions. Call us today for a free estimate to get that natural light look you've been dreaming of or keep your current skylight sealed tight and looking its best.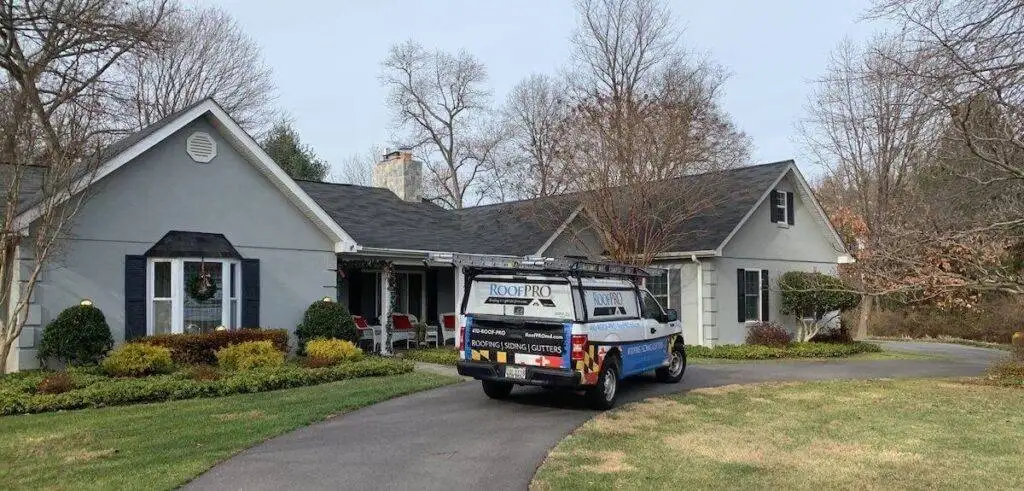 Commercial Roofing Services in Ellicott City, MD
As a business ourselves, RoofPRO is committed to offering best-in-class commercial roofing services to business owners in Ellicott City and beyond to help keep them running at their full potential. We know construction downtime can snowball into lost profits and sunk costs, so we do everything in our power to minimize disruptions while providing the best solution for your property. We offer comprehensive roof repair, roof replacement, and roof installation services for all types of commercial roofing. Reach out today for a free estimate! 
Flat Roofing Repair, Replacement, and Installation
Flat roofing has long been the industry standard for commercial construction, and we're far from strangers to working with it! We have nearly 20 years of experience installing and maintaining every major type of commercial flat roofing. We use only proven and tested materials and methods to ensure you're getting the full value of your investment. 
Skylights and Sun Tunnels
Skylights and sun tunnels are common commercial property additions, but they can be prone to leaking and are often the first element of a roof to get damaged after a severe storm blows through. Our experienced team of top-notch roofers is trained and ready to install, repair, or replace skylights and sun tunnels to keep your business looking its best inside and out.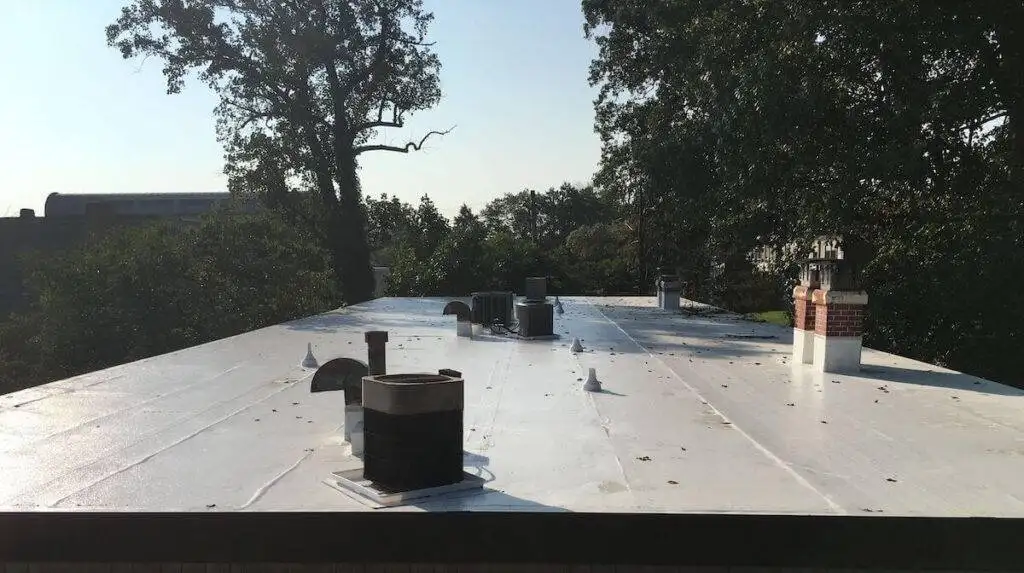 RoofPRO Brings Expertise with Many Flat Roofing Types
Over the years, we've had the pleasure of installing and maintaining almost every style of commercial flat roofing, including thermoplastic polyolefin (TPO), Rubber Membrane Roofing (EPDM), and more! 
Reach out today for more information on our top-rated commercial flat roofing services. 
Additional Services from RoofPRO
In addition to our top-rated roof repair and installation services, we also offer a wide variety of industry-leading exterior home improvement solutions designed to keep your property looking and performing at its best all year long. For more information about our additional exterior services, contact us today for a free estimate. 

Attic Ventilation and Insulation
In order to extend the life of your roof and prevent long-term water damage from wreaking havoc in your home, it's critical to have a properly insulated and ventilated attic, especially in colder climates. Our professional team can ensure that your attic isn't trapping any excess moisture, keep it insulated from the elements, and help you save on your energy bill.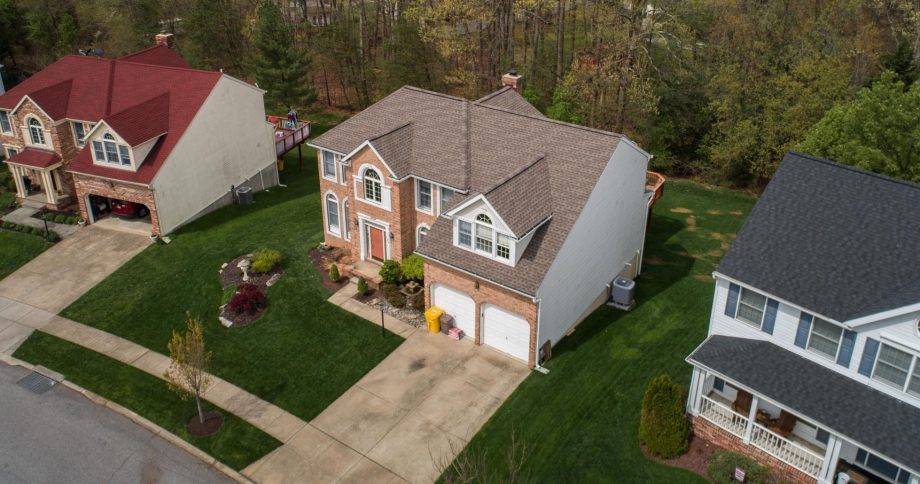 Solutions for Siding, Gutters, and Exteriors
At RoofPRO, we offer the best solutions in town for every aspect of your home's exterior, including top-notch siding and gutter installation, replacement, and maintenance services. 
Rest easy knowing your home is sealed and protected while looking its best! 
Why Hire RoofPRO in Ellicott City, MD?
RoofPRO stands out from the rest of our Maryland competition with a reputation we've earned from years of hard work and dedication to superior customer service. As Ellicott City's top-rated roofing contractor, we go above and beyond to offer high-value roofing services that cover all the bases. We work with the highest quality materials to ensure you get a roof built to last. 
In the years we've been in business throughout Maryland, we've had the honor of being recognized by some of the biggest names in the industry. Our commitment to top-quality service and customer satisfaction has earned us recognition from the Better Business Bureau, Certainteed, Owens Corning, and other reputable brands! 

Local Maryland Contractors Since 2004
For almost 20 years, our team at RoofPRO has been proud to offer our comprehensive brand of roofing services to Ellicott City and the rest of Maryland. In that time, we've developed a deep understanding of our unique climate, our clients and their needs, and how our solutions can best serve our community. Our goal is to be known throughout Maryland as the best roofers in the business, and we strive every day to be better than we were the day before.  
Contact Us for a Free, No-Hassle Estimate
If you're interested in any of our top-rated roofing or exterior home and commercial services, contact us today to schedule a consultation and receive a completely free estimate from the professionals at RoofPRO. We'll work with you to develop an understanding of your needs and create a solution to meet them!  
Speak directly with one of our roofing experts