When it comes to protecting your property and those inside it, your roofing system is among the first lines of defense against the elements! As a trusted roofing contractor in Bethesda since 2004, RoofPRO takes great pride in serving the residents and business owners of Maryland with high-quality roofing services. Reach out to us today for a free estimate on your next roofing project! 
Professional Roofing Solutions in Maryland
Among the crowd of roofing contractors in Maryland, RoofPRO has been a top-rated and professional Bethesda roofing company for nearly two decades. We offer an array of trusted roofing solutions for residential and commercial properties across the state! Check out a few of our most popular services below.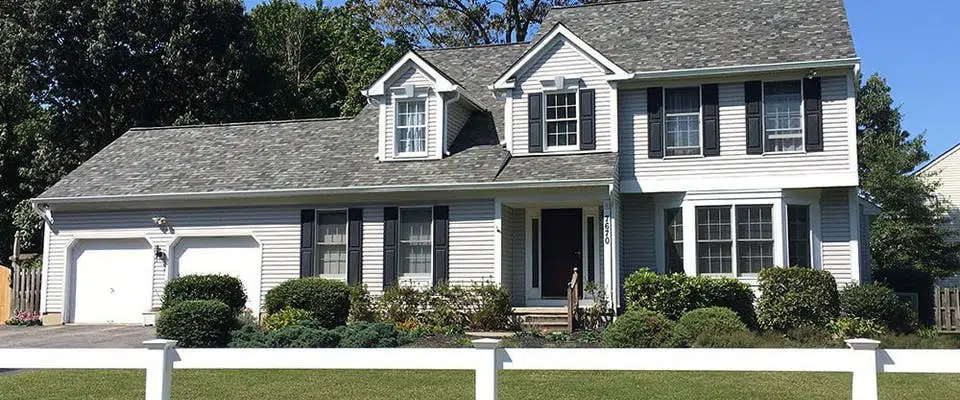 Residential Roofing Services for Bethesda Homes
No matter what roofing material your home utilizes, be it asphalt shingles, tile, metal, or anything else, RoofPRO's team of expert professionals has you covered! We have nearly 20 years of experience providing top-rated residential roofing services in Bethesda and the surrounding areas; contact us today for a complimentary estimate! 
Roof Repair and Replacement
Unfortunately, there will always come a time when a roofing system will need to be repaired or completely replaced altogether. Whether it be from storm damage, debris, or simply old age, even the most robust roofing materials can wear out over time. Luckily, our team of residential roofing experts can provide full-service inspections, roof repairs, replacements, and more. Whether your home's roof needs a few simple fixes or a complete overhaul and reinstallation, RoofPRO has you covered! 
Storm Damage and Emergency Roof Repairs
When high winds, downpours of rain, and storm debris batter your roofing system, materials can be damaged, knocked loose, or ripped off altogether. This can cause major roof leaks, leading to further damage to your property. RoofPRO's team of certified contractors offers emergency storm damage repairs to residents of Bethesda, helping ensure that your roof and home's overall safety is back to normal as soon as possible. Reach out today for more information! 
If you are building a new home in the Bethesda area or are in need of a complete roof replacement from the bottom up, RoofPRO's top-rated new construction roofing services are here to help! Our crew has vast experience with new construction roofing systems and has the ability to install just about any roofing material you could choose. With our professional craftsmanship and dedication to customer service, let RoofPRO ensure your new roofing system is built to last for years to come! 
Regular Roofing Maintenance
Much like your vehicle, your home's roofing needs to be maintained regularly in order to prolong its lifespan and effectiveness. Most professional roofing contractors will recommend that this routine inspection and maintenance should happen at least once, if not twice per year, just as the weather changes from warm to cold and vice versa. RoofPRO's trusted roofing maintenance programs include routine inspections, debris removal, spot repairs, and more! Contact us today for a complimentary roofing estimate.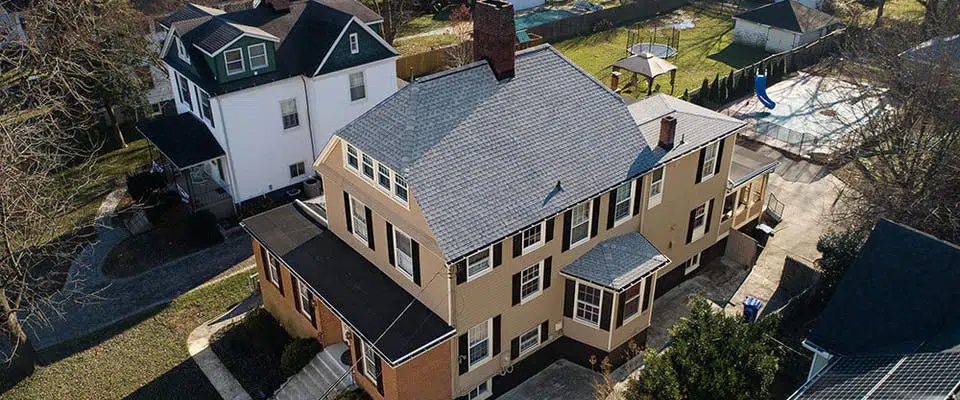 Commercial Roofing Services in Bethesda, MD
In addition to our residential roofing services, RoofPRO also offers an array of commercial roofing solutions for business owners in Bethesda and across the state of Maryland. Since 2004, we've helped countless businesses of all sizes with their flat roofing needs. Reach out today for a free commercial roofing estimate! 
Flat Roofing Repair, Replacement, and Installation
When it comes to roofing systems for commercial buildings, flat roofing is easily the most common across the United States. Due to its versatility, durability, and lower cost, flat roofing is the perfect choice for many business owners. RoofPRO's team of experts has nearly 20 years of experience working with all kinds of businesses to install, repair, and maintain flat roofing systems.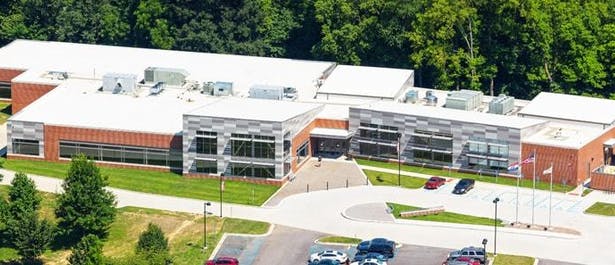 We Bring Expertise with Many Flat Roofing Types
With our ample experience, RoofPRO can work with your company to install many kinds of flat roofing materials, including TPO (thermoplastic polyolefin), EPDM (ethylene propylene diene monomer rubber), self-adhered rolled roofing, and more! For more information, check out our full commercial roofing service page or reach out to our team today!  
Additional Services from RoofPRO
Not only do we specialize in residential and commercial roofing, but our team can also provide a variety of attic and home exterior services as well! 
Check out some of these additional offerings from RoofPRO's professional team below.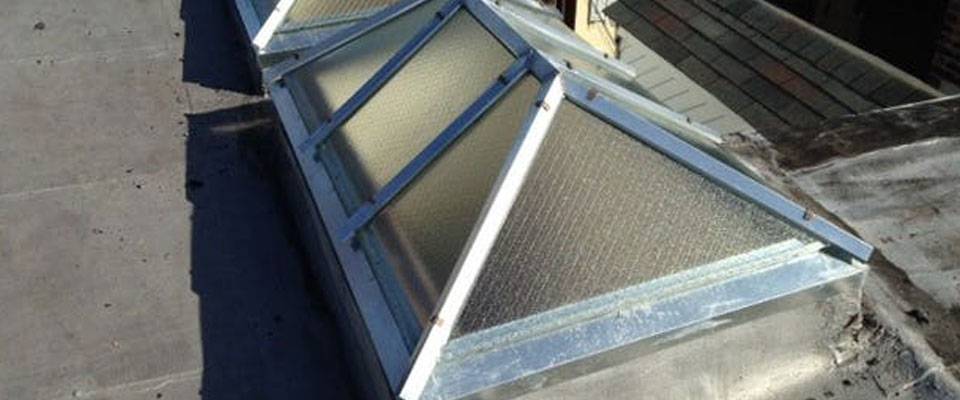 Skylight Installation and Repair (Residential and Commercial)
Skylights are an amazing way to let in more natural light to a space and improve the aesthetics of any building! RoofPRO's team offers trusted skylight installation and repair for both residential and commercial buildings throughout Maryland. Contact us today for a free estimate and consultation!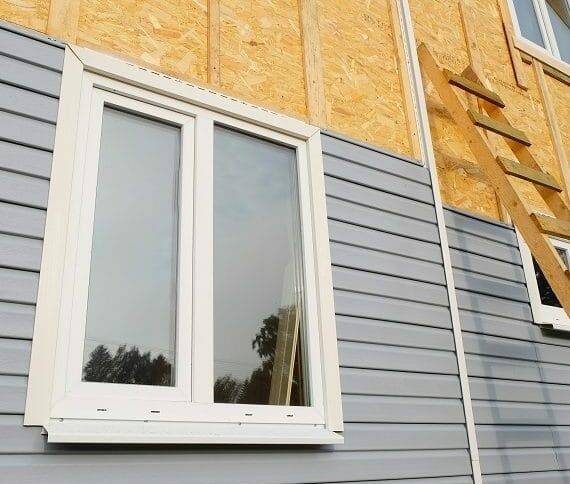 Attic Ventilation and Insulation
Attics are often "out of sight, out of mind" for many homeowners. A well-ventilated attic and proper insulation are both crucial aspects of the overall health and comfort of your home. Let our team of experts assess your home's current situation and provide help with our top-rated insulation and ventilation services!  
Solutions for Siding, Gutters, and Exteriors
Not only do we bring trusted roofing systems to homeowners, but we also can provide durable and robust solutions for your home's siding, gutters, and more. Our team is experienced in helping homeowners across Maryland with their home's exterior needs. Whether you're in need of a gutter repair or a complete siding installation, we're here to help! 
Why Hire RoofPRO in Bethesda, MD?
Aside from our 19 years of professional experience, RoofPRO brings a dedication to quality workmanship and superior customer service to every project we take on. We offer complimentary estimates and inspections in order to match our customers with the right service for their needs and budget – contact us today! 
We are Professionally Endorsed
RoofPRO is proud to carry several professional endorsements from major players in the roofing industry. Not only do we have an A+ rating from the Better Business Bureau, but we are also a preferred contractor for Certainteed and Owens Corning. We believe that these accolades are a testament to our overall craftsmanship and dedication to customer satisfaction. 

Trusted, Local Contractors Since 2004
Our team of professional contractors takes pride in calling Bethesda and the state of Maryland home. With nearly two decades of localized expertise, our roofers know exactly what it takes to build a robust roofing system in Central Maryland.  
Contact Us for a Free, No-Hassle Estimate
Reach out to RoofPRO today to schedule a free, no-hassle estimate. We'd love a chance to help you with your next roofing or home exterior project in Bethesda! 
Speak directly with one of our roofing experts