Commercial Premium Roofing Warranty
Now you can protect your business and your investment in a new or replacement roof with a Standard/Premium No Dollar Limit (NDL) commercial roofing warranty underwritten by the manufacturer. One of the main reasons RoofPRO partners with specific manufacturers and earns their certifications is that they will back the work we do for up to a 30 year NDL period. It's important to us to not only be able to deliver quality work on time, but also to give property owners the confidence that the roof replacement will stand the test of time.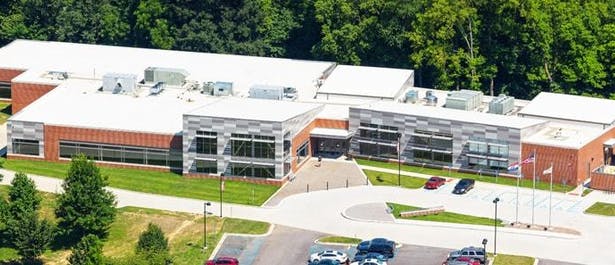 RoofPRO is certified by Mule-Hide Products in many low slope roofing applications and products.
RoofPRO has been through extensive training and have excelled at the project performance on many jobs throughout the Maryland area.
Mule-hide products enjoys a long reputation of manufacturing many low-slow products dating back to 1906.
Products include TPO, PVC, EPDM, self-adhered, and torch modified as well as a line of effective coatings.
Mule-hide is a proven supplier because they have determined the best practices for installation of a water-tight roof. According to Mule-hide, "We provide total systems and work with you to ensure compatibility and related performance of interfacing products." This level of integrity is something we at RoofPRO consistently strive to match. We're certified in applying quality roofing from Mule-Hide, which include all single-ply products.
Search the Mule-hide/RoofPRO Warranty options with the keyword "enhancement." By reading this you're sure to gain more understanding of the process RoofPRO uses to meet and exceed the manufacturer standards. It's critical to do this so that the building owner can have a warranty for materials and workmanship.
Watch a recent wrap-up video at a commercial building in Severn, Md. In the clip, Jim Lessig from Mule-hide has come to certify the roof with a 20 Year Enhancement Schedule. The work had to be rated A+ in order to get the certification and the warranty was issued because everything was perfect on the job.
"This is a RoofPRO roof, it scored a grade of A+" -Jim Lessig of Mule-hide Products
Understanding:
In some cases it can be a challenge to get clarity on the different types of warranties related. Generally the warranty should provide coverage for three elements. You'll want the material warranty from the manufacturer and the installation guarantee from your roofer. On top of that, the manufacturer certifies the roofer in proper application of the materials.

MATERIAL WARRANTIES

In order for a manufacturer to honor a material warranty, the roof has to be installed by a certified roofer. For example, just because a roofer installs a 50 year shingle, it doesn't mean that the manufacturer will honor the 50 year warranty. A product might say it has a warranty, but it is only valid if the roofer has a certification from the manufacturer. RoofPRO is a certified installer for the manufacturers that we use. When we install a roof with ALL the required components and apply for the warranty from the manufacturer, our customers will get the warranty. Material warranties require specific components and accessories to be used in the install. After the roof is installed, the manufacturer wants a report from us and a warranty application filled out. Then they provide the warranty to the homeowner.

LABOR WARRANTIES

A warranty from a roofing company is only as good as the company. So it's best to see how long the company has been around and what their reputation is. RoofPRO has been in business since 2003, providing quality roofing services like commercial installations. Also, you will want to read the details of the labor warranty and make sure it's clearly documented on the contract. If a roof is installed poorly, it will typically leak within the first 5 years. When it comes to replacements, make sure you have the minimum of 5 years labor warranty.

WORKMANSHIP DIFFERENCE

The biggest contributor to ensuring proper workmanship is having a manager on site throughout the roofing project. RoofPRO is certified by Mule-Hide to provide NDL system warranties that cover defective materials or workmanship. The manager is responsible for double checking all the work. Not only does RoofPRO have a Project Manager for each contracting team, but our production team also uses Company Cam daily to keep track of the work and quality.
What happens if a storm causes extreme damage to your commercial roof?
Along with the unlikely possibility that severe storm damage could leak into the building and knock out a server or other critical equipment, those types of claims would be referred to your insurance.
Does your Business Have Exterior Needs?
Trust our Professional Endorsements
OUR DIFFERENCE
We believe that a roof is more than a shingle, it's a system built of multiple components that when properly joined together with each unique essential facet will provide the longevity you need for your home. We bring you roof systems built to last, crafted with excellence and quality, a complete package from top to bottom.